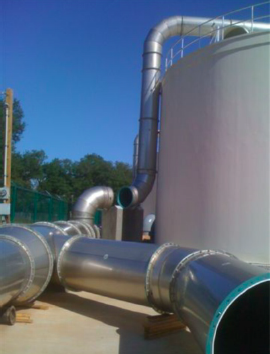 10 Benefits of Coated Metal Duct for Wastewater Odor Control Systems
Wastewater odor control systems and vent pipe products not only need to contain foul air but also need to be highly corrosion resistant. For decades, wastewater treatment facility owners (and engineers) have faced a major pain point with plastic and FRP duct systems that degrade and need regular repair or replacement.
Compounding this pain is the fact that many plastic and FRP duct products are highly combustible. In the event of a fire, or gaseous ignition, such systems will likely be rendered useless if not completely destroyed. In short, wastewater facilities with these types of systems face the pain of higher fire insurance premiums; and those that self-insure face catastrophic losses.