5 Advantages of A

PSP

® Fume Exhaust Duct Installation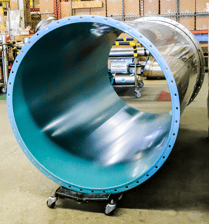 Today, savvy wastewater treatment plant owners, engineers, and managers are paying close attention to the potential risks and unforeseen costs of the materials that are being used in their facilities and systems.
One area where material consideration can have both immediate and long lasting impacts is in the odor control systems of a wastewater treatment plant.
When it comes to exhaust duct installation, some materials like FRP duct may require a deep investment of time, money, and specialized labor.
Alternatively, PermaShield Pipe (PSP®) is a fluoropolymer coated stainless steel odor control duct that's easy to install, easy to maintain, and easy on the bottom line.
1) Installation Labor Savings - PSP® uses a bolt-together Van Stone Flange joining system which provides a 60 to 70%+ installation labor savings when compared to fiberglass reinforced plastic (FRP duct).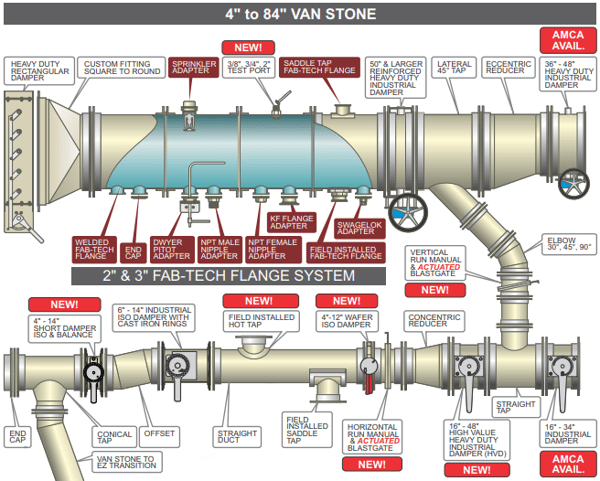 With efficient, all-mechanical fasteners and easy to use PTFE gaskets, PSP® fume exhaust duct installations keep your projects on or ahead of schedule, resulting in reduced project costs, reduced labor costs, and reduced headaches.
FRP duct produces large quantities of dust when being cut and ground for fitting which is labor intensive and clean-up intensive. Additionally, the special bonding resins and adhesives that are required for joining and sealing the duct-work not only require specialized labor, but have been known to be harmful while being applied.
In fact, it's not uncommon for site managers to field complaints by individuals who simply cannot tolerate the odor of the FRP resins that are being applied on-site. Aside from the discomfort that is caused, this can result in unnecessary and costly construction delays.
2) Reduced Fire Protection Costs - PSP® coated stainless steel carries an industry leading fire rating of 0 (Zero) 'flame spread' and a 'smoke generation index' of less than 20 according to ASTM-E84 tests. Based on these ratings, PSP® vent pipe systems do not require the added cost and installation of internal sprinkler systems, and therefore do not require the enormous expense of up-sizing the facility to include grey water collection systems to handle contaminated discharge from the sprinklers.
Additionally, many insurance companies quote favorable premiums for the use of non-combustible systems.
3) Easily Field Modified - If necessary, any PSP® odor control exhaust duct that's smaller than 30" (759mm), with 20ga material, can be cut to length on site. Also, branch lines can be added with innovative saddle tap fittings, and ports for drain lines, tool hook-up, and system measurement can be added with relative ease and little fear of damage to the interior fluoropolymer coating.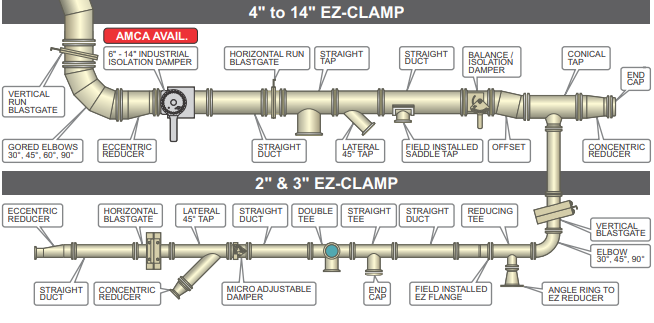 4) Zero Lifetime Maintenance - Unlike plastic or FRP duct products, which are easily damaged and require UV protection to be routinely applied, a PSP® duct installation requires no maintenance or unforeseen specialized labor costs.
Fittings can be used and reused over the span of the product's life, or can be sold for scrap value in an end-of-use scenario. FRP products, on the other hand, may over time absorb the chemicals they were designed to vent, and therefore require the added cost and hassle of hazardous waste disposal. Fab-Tech's proprietary fluoropolymer coating is inert and will not absorb water or chemicals. Long term, the economic effects of chemical leaching and subsequent hazardous waste disposal associated with other systems are eliminated with PSP®.
5) Chemical Compatibility - Wastewater treatment plant odor control duct must be designed to handle constant exposure to highly corrosive and odorous fumes without leaks, degradation, or costly repairs and replacement. Based on evaluations in over 400 chemical applications, PSP® fluoropolymer coated fume exhaust duct has been proven superior to both FRP duct and plastics when tested for corrosion resistance, chemical concentration tolerance, and upper temperature limit.
A Total Solution
In summary, advanced wastewater treatment plants are cleaner and greener than ever before in design and operation. This is due to increasingly stringent regulations as well as increased awareness about the limitations and attributes of many once-prominent building materials. The bottom line is that PermaShield fluoropolymer coated stainless steel duct is faster, cleaner, safer, and more cost effective than FRP duct when factoring overall installation, maintenance, and total lifetime costs.
In the face of ever-changing regulations and demands for wastewater treatment plant odor control, it certainly pays to research the advantages and potential pitfalls of any construction material prior to making a capital investment in a new system or facility.
To assist with your research, please feel free to download our general information guide below: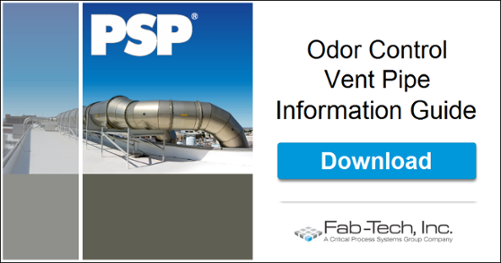 OR
Read More About PermaShield Fluoropolymer Coated Vent Pipe and Duct