Advanced Wastewater Odor Control Systems Are Drawing Public Interest
Economic and population growth in the Seattle, Washington area has driven the need to increase regional wastewater treatment capacity. In the summer of 2000, King County began searching for locations for additional treatment facilities. Over the course of a 3-year public process between 2000 and 2003, more than 65 potential locations were evaluated.
Because extensive stakeholder consultation and environmental reviews were a part of the siting process, odor control from the proposed facility became an important factor in its design. The resulting $1.86B, 36 million gallon per day regional system, known as Brightwater, now serves much of North King County and its wastewater treatment technologies have set far-reaching standards.
NEW PLANT DESIGN ENABLES UNATTENDED OPERATION AND UNPARALLELED ODOR CONTROL
In 2012, The American Academy of Environmental Engineers & Scientists acknowledged the design and construction advancements that the Brightwater project achieved. Noted in the award were the "originality and innovation" inherent in the facility that enabled both the protection of water quality and the preservation of key community standards.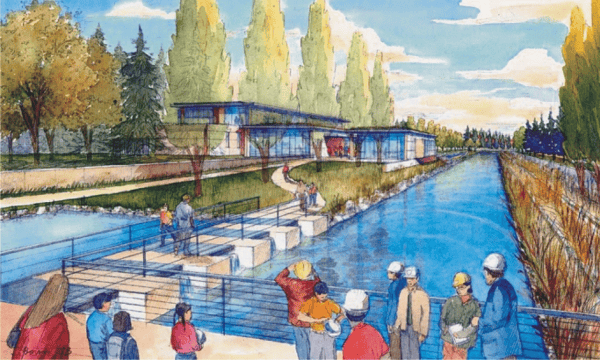 As mentioned, deep public involvement during the plant siting process meant that odor control was a primary design driver. In fact, the community was promised that the plant would "produce no odors - ever."
In keeping with this promise, the plant was designed for complete enclosure of all process spaces and for foul air to be routed directly to wastewater odor control systems for treatment.
Through advanced automation the plant is capable of operating and even re-starting unattended if necessary.
It can also be monitored, diagnosed and optimized remotely. This not only frees resources for other critical activities, it provides an additional backstop against personnel shortages and/or operational emergencies.
Given this level of functionality, the design was required to account for everything from process containment to fire prevention.
"All process facilities operate under negative pressure to prevent fugitive odors. Odor control facilities have 13 parallel treatment trains, each rated for 40,000 cubic feet per minute of foul air flow. The odor control process includes initial treatment by bioscrubbers, treatment through two-stage chemical scrubbers, and final polishing by activated carbon adsorption prior to discharge through extended stacks. The odor control system provides an unparalleled 99.97 percent removal efficiency of hydrogen sulfide, resulting in less than 1 part per billion at the property line."
Download our wastewater odor control systems exhaust duct information brochure here.
The success of these control measures (reached largely through proper equipment selection and design), was instrumental to plant siting and has been critical to achieving community acceptance and support for the Brightwater project.
CHALLENGES FACED
A challenge of routing wastewater treatment foul-air is that typical wastewater chemical vapors often include chlorine (C12), hydrogen chloride (HCL), hydrogen sulfide (H2S), ozone (O3), sulfuric acid, sodium hypochlorite, sodium hydroxide and methane. Dilute acids and acid vapors can be particularly corrosive, and with a rich mix of corrosives it can be especially difficult to design a duct system that is sufficiently impervious.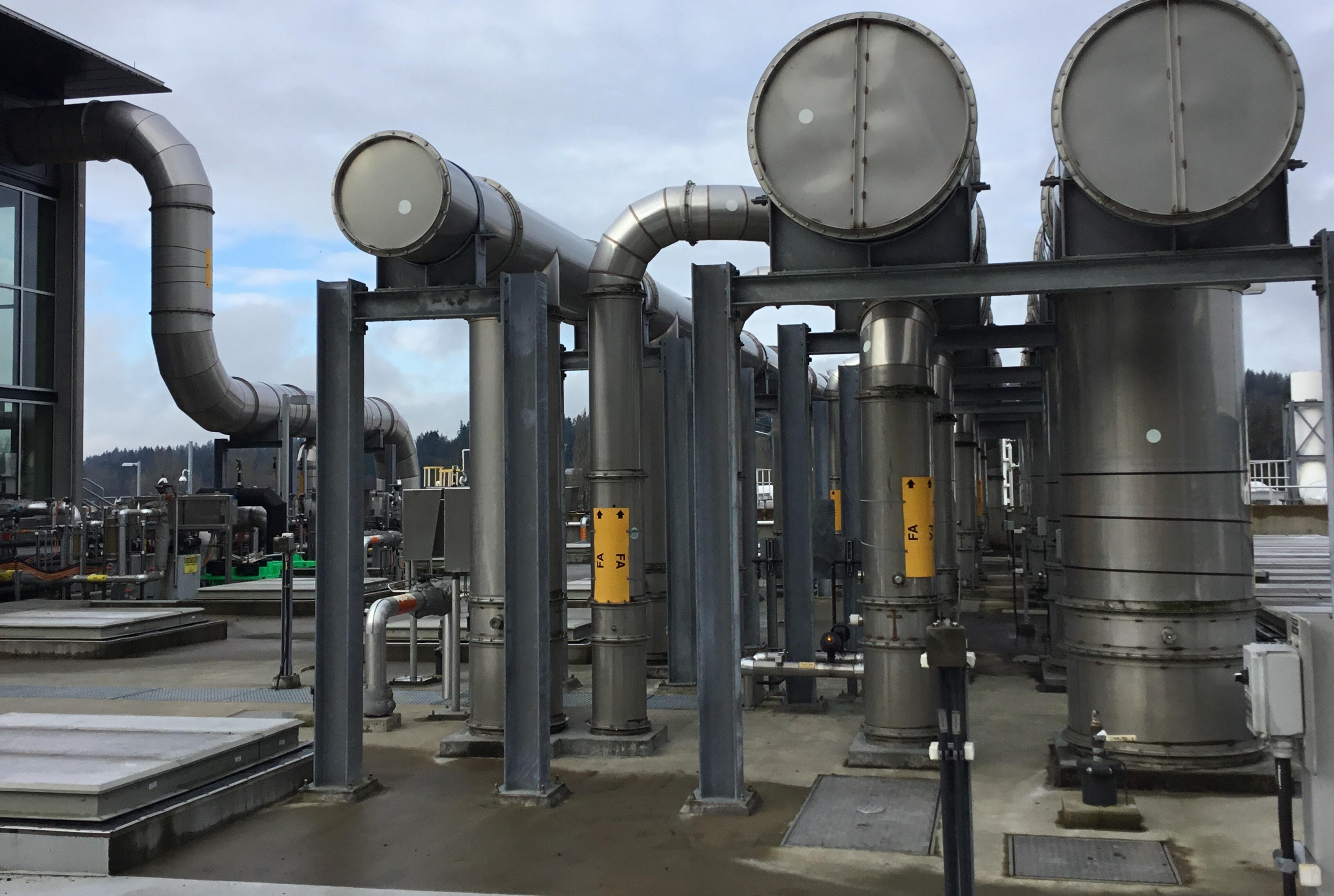 Engineers and designers for the Brightwater project researched the best wastewater odor control systems and technology to ensure the facility would not produce detectable odors while also maintaining a low corrosion / low maintenance / low lifetime cost profile.
Given the design goal of having a plant that can run unattended, or via remote control, a high degree of confidence that hazardous fumes are leak-tight was not the only deciding factor. Another primary concern for unmanned operation of the facility was fire prevention.
Ultimately, Fab-Tech PSP® was selected as a multi-faceted solution to the various challenges identified by this research. PSP® is corrosion-resistant stainless steel pipe with an interior coating of fluoropolymer. Fluoropolymer is a substance that contains fluorine atoms resulting in a high resistance to solvents, acids and bases. Due to their molecular properties however, fluoropolymers are notoriously non-adhesive.
Fab-Tech's PermaShield coating, through the use of its proprietary primer technology, enable this non-stick substance to adhere to the inside of stainless steel duct; a capability that no other company has been able to replicate successfully.
Based on published data, PSP® far surpasses FRP in chemical resistance. Its corrosion resistance exceeds glass, exotic metal alloys, and plastics. Additionally, PSP® carries an industry leading fire rating of 0 (Zero) and a smoke generation of less than 20 from the ASTM-E84 tests.
To date, Fab-Tech continues to receive praise for the exhaust work provided nearly a decade ago. One facilities manager was recently quoted as saying, "the PSP® is performing and looks as good as the day it was installed." The same could not be said of the FRP that was showing signs of scaling, peeling and molding due to ultra-violet degradation.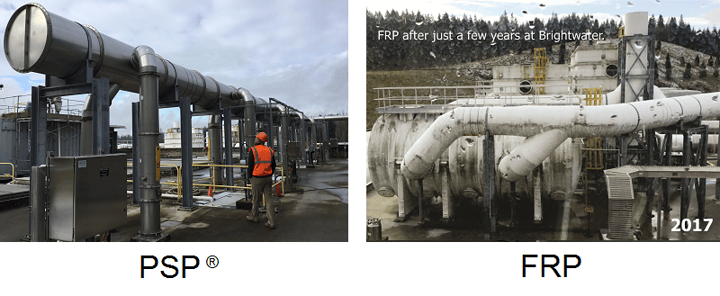 The sum of these characteristics make PSP® one of the leading advanced wastewater treatment technologies for odor control exhaust in wastewater facility processes.
Today, the Brightwater facility provides tours to students, residents and officials to expand awareness on advancements in wastewater treatment technology as it applies to our quality of life.
It has become a destination for other treatment plant owners to help them understand what best practices and technologies are available as they look to expand and improve their own operations. The Brightwater project has set new standards for wastewater treatment and reclamation.
PSP® PermaShield is the global leader in fluoropolymer barrier coated stainless steel corrosive exhaust. Fab-Tech, Inc. continues to increase its presence in the wastewater industry with PSP® as the odor control system with the best performance, benefits, and superior cost advantages to FRP. When total costs including install, material and life cycle are calculated, PSP® PermaShield is the odor control solution of the future.
OR
Learn more about PSP® and wastewater treatment plant odor control here.