PSP®

Vent Pipe USed In Multiple Wastewater Odor Control Areas at DC Blue Plains
The DC Water and Sewer Authority (Blue Plains) is the largest wastewater treatment facility in the world. DC Water utilizes some of the most advanced treatment systems available to provide water and wastewater treatment services to more than 600,000 local residents, another 1.6 million people from neighboring Maryland and Virginia, 17.8 million annual visitors and 700,000 people that work in the DC area.
DC Water is in the midst of a $10 billion Capital Improvement Program which is quickly distinguishing the facility as a global leader in wastewater treatment technology. Fluoropolymer coated PSP® vent pipe has emerged as a key component in the success of this program, namely in the handling of corrosive and odorous fumes for multiple stages of the treatment process.
Process vent pipe and exhaust duct lines at wastewater treatment facilities are tasked with handling not only malodorous fumes, but potentially harmful gases and chemical vapors. For instance, hydrogen sulfide gas (H2S) is one of the most common odorous compounds at wastewater treatment facilities, known for its "rotten egg" smell, but it is also highly corrosive and flammable.
Other contaminants that can be found within wastewater foul air include methylmercaptain, dimethyldisulfide, chlorine, hydrogen chloride, hydrogen sulfide, ozone, sulfuric acid, sodium hypochlorite, sodium hydroxide and methane.
DC Water and Sewer Authority, with its advanced nitrification/denitrification and filtration process capacity of 370 million gallons per day up to a peak level of more than one billion gallons per day, required a wastewater odor control vent pipe system that could safely handle extreme volumes, heavy usage, and a wide spectrum of corrosive and odorous compounds across multiple systems.
BIOSOLIDS DEWATERING
One of the first applications where DC Water implemented PSP® was in the Biosolids Management Program (BMP) to assist in the goal of reducing operating costs, saving energy, and producing a Class A pathogen free Biosolids product for agricultural use.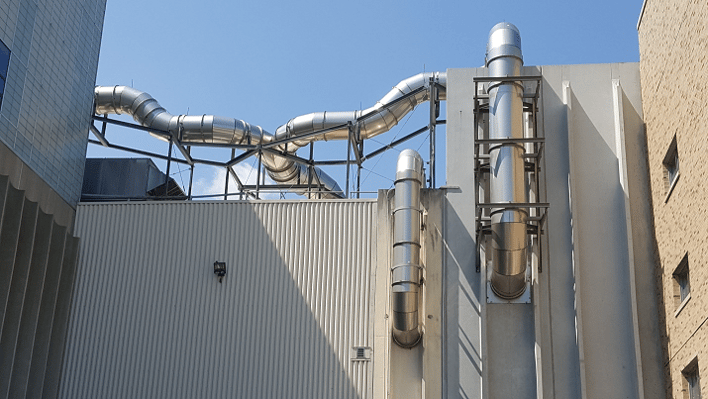 The upgrades to this process included four thermal hydrolysis process trains, four mesophilic digesters and a final dewatering facility. The digesters are some of the largest in the world at 3.8 million gallons each, and the site was the first of its kind in America to use cutting edge thermal hydrolysis process equipment from Norway.
The process is designed to steam pre-treat solids for anaerobic digestion. The clean biogas that is generated fuels three 4.6 MW gas turbines in a new combined heat and power (CHP) facility, providing steam for the thermal hydrolysis process, and generating 11.8 MW of power. This provides DC Water approximately 1/3 of the energy required to operate the plant and reduce greenhouse emissions by 60,000 tons per year.
In diameters ranging from 12" to 60", several thousand feet of PSP® were installed to carry wastewater foul air through the biosolids and dewatering process. This duct was installed between 2011 and 2014 by PC Construction of South Burlington VT and Corinthian Contractors, Inc. of Arlington VA.
"We were very pleased with both the quality of the product and the working relationship with Fab-Tech," commented the Corinthian Vice President Declan Munslow. "Fab-Tech's diligent customer service and thorough coordination with CCI's Field and Management Staff was critical in CCI's ability to meet the project completion date and deliver the customer with an exceptional final product."
GRIT CHAMBERS 1 & 2
As part of the overall site upgrade, DC Water also invested $84 million into their grit chamber buildings. The project included new continuous technology with submersible pumps utilizing a new traveling bridge grit removal system. Also included was a conveyance system, grit storage, loading buildings and new wastewater odor control systems.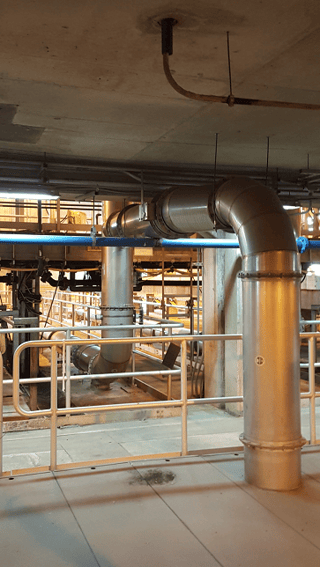 Wastewater comes to the Blue Plains site through 1,800 miles of sewers. It comes from around the district starting at Dulles Airport and traveling through parts of Maryland and Virginia before being pumped into the grit chambers. In the grit chambers, raw sewerage is sifted to remove debris such as rocks, plastics, sand and other larger debris. Collected debris is then loaded into trucks and deposited in local landfills.
All of the chambers require odor collection systems to prevent polluting the external environment and keeping the levels of potentially toxic fumes below harmful levels for workers.
Ulliman Schutte Construction began in 2015 and continues to install PSP® odor control exhaust system components throughout both buildings. The system currently contains hundreds of feet of 44" down to 16" duct running from the collection chambers, up through the building, and over to the odor control scrubbers.
DC Water continues to utilize PSP® in their efforts to reduce odorous fumes and combat its effect on the environment, all while controlling operating costs and increasing process efficiency.
"Sound exhaust system with easy installation," commented the Project Superintendent Pete Mecca. "Joint Gasket applied without issue and no detectable leaks have been found."
Fab-Tech focuses on full customer support for each project, and when asked about delivery performance, Pete said, "Deliveries have been right on time and when the inside sales team give a delivery date, they hit it."
PUMP STATIONS
In addition to the grit chambers and biosolids areas, DC Water and Sewer is also utilizing PSP® in the Bryant Street Pump Station. With this project starting in the fourth quarter of 2017 and running through much of 2018, Fab-Tech looks forward to working with WM Schlosser on this project.
If you would like more information about PSP® odor control vent pipe and duct, please feel free to download our general information guide below:
OR
Read More About PSP® Coated Metal Duct in Wastewater Odor Control Here