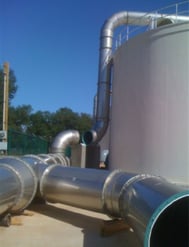 10 Benefits of Coated Metal Duct for Wastewater Odor Control Systems
Wastewater odor control systems and vent pipe products not only need to contain foul air but also need to be highly corrosion resistant. For decades, wastewater treatment facility owners (and engineers) have faced a major pain point with plastic and FRP duct systems that degrade and need regular repair or replacement.
Compounding this pain is the fact that many plastic and FRP duct products are highly combustible. In the event of a fire, or gaseous ignition, such systems will likely be rendered useless if not completely destroyed. In short, wastewater facilities with these types of systems face the pain of higher fire insurance premiums; and those that self-insure face catastrophic losses.
As if that's not enough, wastewater odor control systems are often situated outside of a climate controlled facility. This leaves plastic and FRP products vulnerable to harsh environmental conditions ranging from intense ultraviolet rays to extreme weather and temperature fluctuations.
Such conditions can lead to problematic installations and persistent material degradation.
Thankfully, the entire game changed when fluoropolymer coating was first applied to stainless steel duct for industrial fume exhaust applications.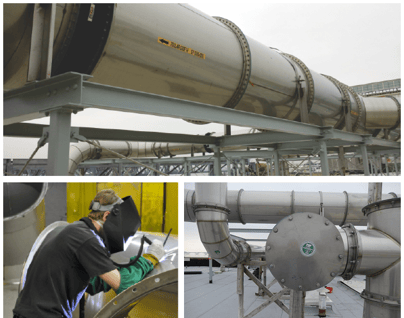 With this technology, PSP® coated metal duct became the standard bearer for longevity and performance over alternative systems like plastic and FRP duct.
Here are 10 reasons why:
1) Corrosion Resistance
With its 300 series stainless steel exterior, PSP® wastewater odor control vent pipe requires no protective UV coatings or resins, and maintenance over the life of the product is virtually non-existent.
Additionally, because PSP®'s internal fluoropolymer coating does not absorb corrosive fume compounds, the system also will not corrode internally and will not require costly disposal in an end-of-use scenario.
In fact, PSP® coated metal duct can be fully reused or reinstalled at another project location, or recycled in an end-of-use scenario. This dramatically lowers disposal costs and potential impacts to the environment.
2) Fire Safety
With respect to fire safety, PSP® coated metal duct carries an industry leading fire rating of zero 'flame spread' and a 'smoke generation' index of less than 20 according to ASTM-E84 tests.
Through its NFPA 820 compliance and FM 4922 approval, PermaShield Pipe meets building codes and standards for interior odor control areas. This eliminates the added cost and installation of internal sprinkler systems and eliminates the enormous expense of up-sizing the facility to include grey water infrastructure.
Additional Benefits of

PSP

® Coated Metal Duct
Beyond corrosion resistance and fire safety, there are many additional benefits that stem from the application of fluoropolymer coating to stainless steel fume exhaust duct. These include, but are not limited to:
3) High mechanical durability with excellent cut through and abrasion resistance
4) Low cold flow
5) High tensile strength and good elongation properties
6) Excellent impact resistance at room temperature and down into the cryogenic
7) Dimensional stability
8) Continuous use to 300°F in most applications
9) Excellent release properties
10) Very smooth surface
If you would like more information about PSP® wastewater odor control vent pipe and duct, please feel free to download our general information guide below:
OR
Read More About PSP® Fume Exhaust Duct In Wastewater Treatment Plant Odor Control Systems