Coated Stainless Steel versus FRP Duct On Sustainability
We are entering a new age, one where people are realizing that it's possible to meet and exceed business financial goals and to still make progress in preserving our environment. This concept is taking hold in new and diverse ways across many commercial and industrial spheres. It's known as the circular economy.
You'll be hearing this phrase more and more as its influence grows, but what exactly does it mean?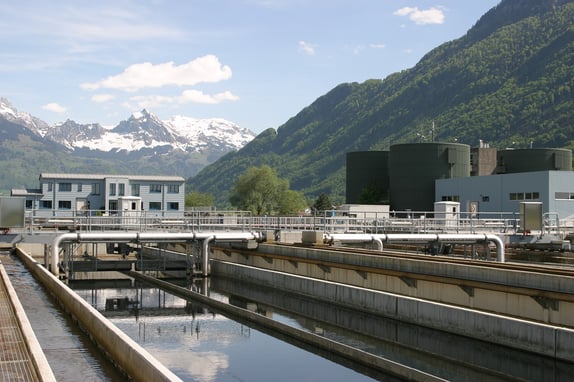 According to the Ellen MacArthur Foundation:
The circular economy is restorative and regenerative by design... [it looks] beyond the current "take, make and dispose" extractive industrial model. Relying on system-wide innovation, it aims to redefine products and services to design waste out, while minimizing negative impacts. [1]
As it pertains to the Water and Wastewater Treatment Industry, we must ask ourselves what areas of facility design can be optimized to further support and promote a circular economic model?
While cleaner and more efficient water treatment processes may be the first to come to mind, there are additional areas for improvement that should not be overlooked. This includes specifying sustainable materials in the design of wastewater odor control systems as a means to "design waste out" and to support future community health standards.
Wastewater treatment facilities are already held to a high standard of stewardship given their responsibility to recycle clean water back into our environment. As such, it should stand to reason that the materials used in the construction of their odor control systems should uphold similar environmental values and honor a "One Water" approach beyond their intended life cycles. In this sense, Fab-Tech's PermaShield coated metal duct fits perfectly into a circular economic model.
Compared to FRP duct systems, PSP® coated stainless steel duct fully meets the definition of Reduce, Re-use, Recycle:
REDUCE
The installation of PSP® coated metal duct reduces construction waste at the job-site.
FRP duct requires extensive cutting, sanding, fitting and the use of chemical bonding agents and protective coatings, whereas PSP® is designed to be ready for installation at delivery, requiring no additional add-ons, materials or specialized labor; and producing virtually no waste other than recyclable shipping crates.
RE-USE
In and end-of-use scenario, PSP® ductwork can be cleaned and reused for another application if desired, virtually eliminating the landfill or incineration waste that is generated by FRP duct at system-end-of-life.
RECYCLE
Finally, if there is no useful application for the ductwork beyond its intended lifecycle, PSP® coated metal duct can be sold for scrap, or recycled infinitely, and the 300 series stainless steel suffers no quality degradation during reprocessing. Because most FRP duct applications are multiphase in nature (containing 3 or more hazardous components) it is expensive and difficult to dispose, and most often ends up in landfills.
In Part 2 of this series, we take a closer look at efforts by the EU to reduce landfilled composite waste and we examine why it should serve as a model for process industries here in the U.S.
If you would like more information about PSP® odor control vent pipe and duct, please feel free to download our general information guide below:
OR
Visit Our Wastewater Treatment Odor Control Page
---
Source:
[1] https://www.ellenmacarthurfoundation.org/circular-economy