4 More Reasons to Use

PSP

® Coated Metal Duct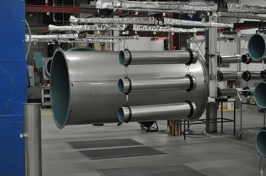 It's always nice to discover that little advantage or edge-up which makes our lives easier, safer, cheaper, or more productive. It's even better when that advantage is not so little, and when it improves our lives across all categories!
This article takes aim at four big advantages of PSP® coated stainless steel duct and how it surpasses FRP duct in quality, safety, cost, and convenience.
1) PSP® IS TRUE CLASS 1 DUCT
When tested using the ASTM E-84 method for flame and smoke generation, PSP® comes up with zero flame spread and a smoke generation rate of less than 20. This means that in the unlikely event of a fire in the duct, fluoropolymer coated stainless steel will not spread the flame or contribute to any meaningful smoke generation.
In certain applications, to safely use FRP duct (with a smoke generation rating over 50), the installation of specialized and expensive sprinkler systems is required inside the ductwork itself. FRP duct also requires the application of special resin coatings to reach Class 1 status. These resin coatings are dependent on brominated vinyl ester, which generates high levels of smoke and carbon dioxide when exposed to flame.

Read Our Fire Safety Class 1 Duct Case Study Here
2) PSP® IS FAST AND EASY TO INSTALL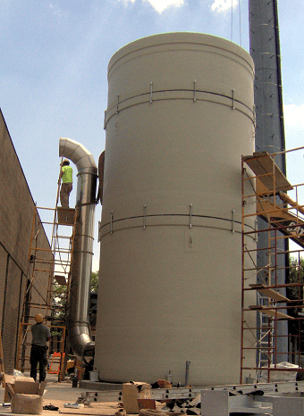 Coated metal duct has a clear advantage over fiberglass when it comes to installed labor and cost. PSP® uses a bolt-together Van Stone Flange joining system which eliminates the need for odorous resins and bonding agents to secure the jointing of the duct. FRP duct requires grinding, sanding, and the application of special resins and bonding agents which are dependent on optimal weather and temperature conditions.
When received on site, installing contractors can unload PermaShield Pipe and immediately begin installation; saving greatly on project timelines.
3) PSP® IS Reusable and Recyclable
Not only is PSP® a fully reusable corrosive exhaust system that can be taken down and redeployed within a project site, but the stainless steel substrate product is fully recyclable should the system be taken down and not reused for some reason.
Additionally, PSP® can be decontaminated by simply wiping the duct surfaces with decontaminating agents; thus preventing the duct itself from being classified as toxic waste or pollutant. FRP does absorb chemicals and will be labeled as toxic waste requiring costly disposal methods and locations.
4) PSP® IS Zero maintenance
Finally, PSP® carries a simple no lifetime maintenance cost for an installed system. FRP on the other hand requires special ultraviolet and weather protection treatments to the outside surfaces of the duct.
In order to prevent ultraviolet degradation, owners are required to paint the outside surfaces of FRP with a gel coating. This gel coating is needed every 3-5 years depending on where the wastewater treatment plant is located. In areas with a higher frequency of sunny days, FRP systems will require even more treatments over the life of the product. The cost of the gel coat, labor, tooling and scaffolding is typically not budgeted for when installing a new system. These costs fall to the owner as maintenance and can exceed 10's of thousands of dollars.
PSP® being a stainless steel exhaust system with stainless steel flanges and hardware can handle all weather conditions and UV protection is never required.
"PSP, looks as good as the day it was installed!" - operations manager at King County WWTP.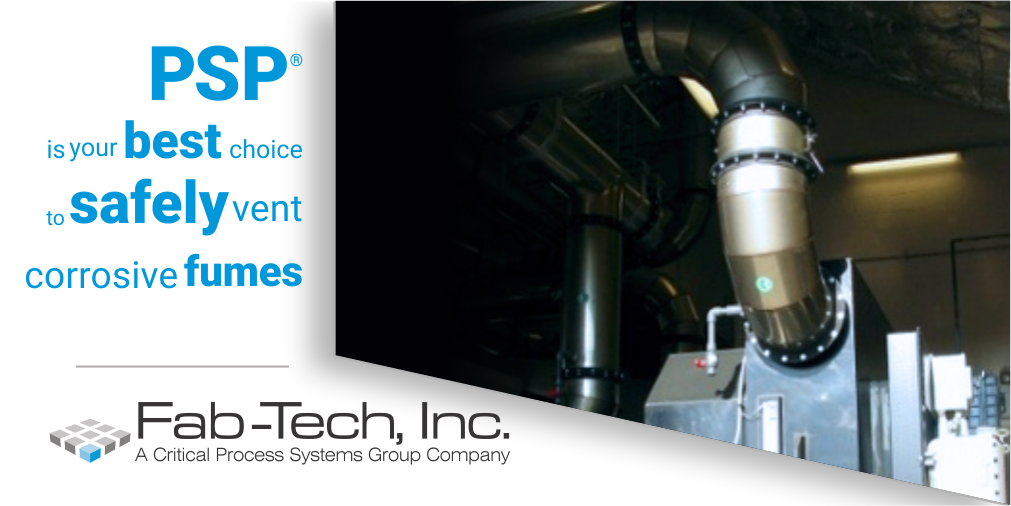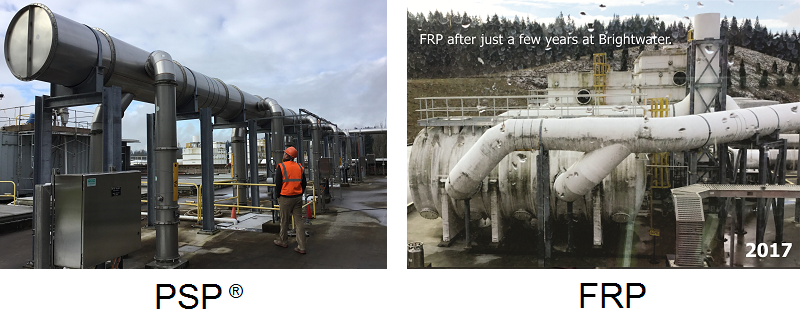 If you would like more information about PSP® corrosive fume vent pipe and duct, please feel free to download our general information guide below:
OR
Read More About PermaShield Fluoropolymer Coated Fume Exhaust Duct Here