5 Things You Should Know Before Using FRP Duct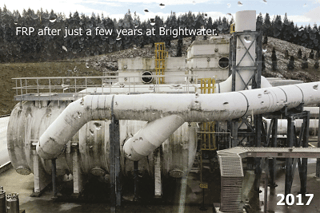 When it comes to installing hazardous fume exhaust systems in wastewater treatment facilities, one of the many design considerations to resolve is whether to use fiberglass reinforced plastic (FRP) or coated stainless steel.
Historically, FRP duct has been the more common choice from a cost perspective, but increasingly savvy facility owners and engineers are recognizing that there are hidden costs and strict rules and regulations that come with a decision to use FRP materials.
Today, PSP® fluoropolymer coated stainless steel is emerging as the preferred choice in terms of lifetime performance, value, safety, and ease of installation. Bridging all of these considerations are several hidden costs that come with having to design fire safety into an FRP duct system, which are not necessary with PSP® coated stainless steel.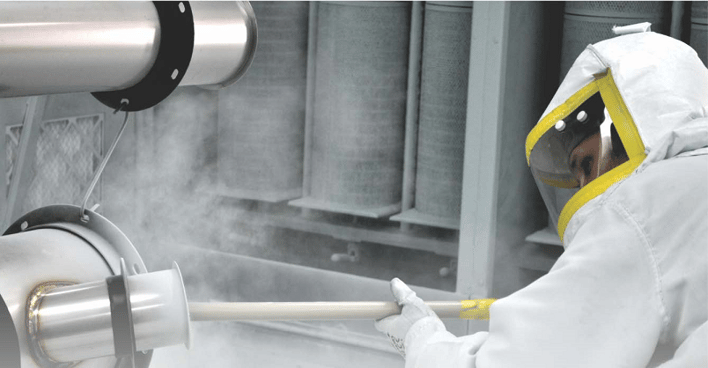 Unlike PSP® coated vent pipe, fiberglass and other combustible duct materials require the use of internal sprinklers for fire suppression. In some instances, due to the combustibility of many resins used in making FRP duct, certain building codes and insurance companies may prohibit the use of such materials altogether.
This can be a rude awakening if discovered late in the design phase. Beyond this, sprinkled duct has an entire sub set of related design factors to consider and resolve.
The CoST TO SPRINKLE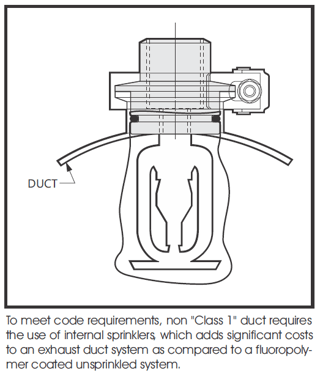 1) For starters, if code authorities do allow the use of combustible materials with internal sprinklers, insurance underwriters will certainly demand higher premiums.
2) The sprinkler systems themselves, being exposed to potentially corrosive exhaust, will require special treatments and coatings for protection. Furthermore, special arrangements and installation connections (typically, flexible metallic hose) will be required for the purposes of inspection and service.
3) Since a sprinkler discharge can release a tremendous amount of water into the vent system, the duct work will need to be supported in a manner that can withstand the weight of the duct as well as the water.
4) The duct system will need to have drainage access and greywater infrastructure in place in the event that the sprinkler system activates. Sprinkler effluent may also need to be treated as hazardous waste.
5) Finally, the discharge connections of the duct need to be arranged to trap water in the duct so that a sprinkler discharge does not flood the expensive and delicate process machinery served by the system.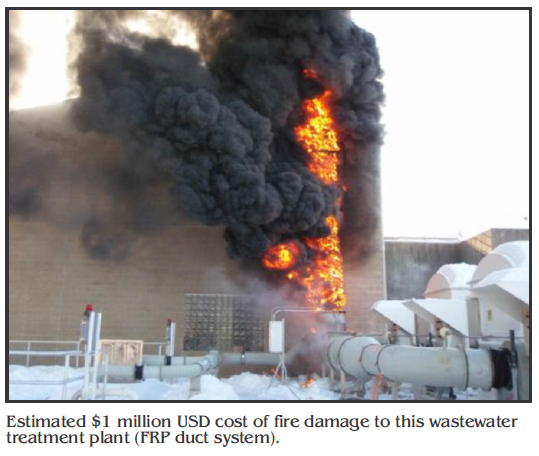 These problems and additional costs can be completely avoided by using PSP® fluoropolymer coated stainless steel, a Class 1 duct approved by Factory Mutual for use without internal sprinklers.
If you would like to learn more about the advantages of PermaShield Pipe vs FRP duct, please click here
OR
Learn more about PSP® and wastewater treatment plant odor control here.