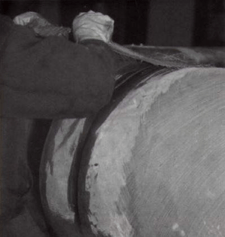 Here's what it takes to make an exhaust duct joint on FRP Duct
Joints on FRP duct are traditionally accomplished by means of a labor intense "butt and wrap" procedure. Duct ends are ground smooth, exposed ends are sealed with catalyzed resin, and the duct or fitting is "buttered-up" and overlaid with several layers of resin and reinforcing fiberglass.
Adhesive curing at an ambient temperature of 70°F would take at least 24 hours to complete, so electric heating blankets are often required to accelerate the time to cure each joint.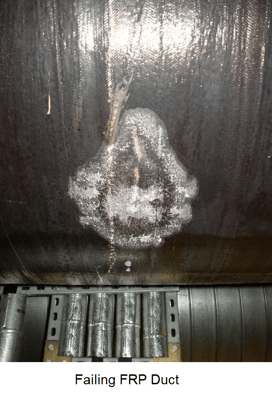 Also, resins must be stored and mixed at the right temperature and their constituent parts must be mixed in the exact ratio to prevent crazing.
Since variable outside temperatures result in different "kick-off" times of the resin, different additives must be used to either speed up or slow down the reaction time based on the needs and work speed of the installer.
Work site temperatures below 69°F or above 90°F, as well as high humidity, can adversely affect the adhesion, curing, and/or the overall integrity of the fiberglass joint connection.
This may present a safety and reliability concern since FRP duct often handles hazardous or corrosive fumes.
In such applications, joint quality is paramount to the performance and safety of the final system.
As process facility owners and engineers expand their awareness of the different corrosive fume exhaust duct technologies that are available, a case is often easily made for moving to PSP® fluoropolymer coated stainless steel over FRP duct.
For owners of pre-existing systems, this then raises the question: Is it possible to join and/or retrofit dissimilar duct materials?
The short answer is yes. Dissimilar duct materials can be joined as long as you follow the right procedures.
For FRP duct, one of the hardest steps in connecting with dissimilar materials is the procedure of affecting the required internal joint. In sizes 24 inches and above, a person has to get into the pipe or duct to the point of the joint, and apply an interior corrosion wrap. Prior to joining, ends need to be ground smooth and all dust and debris must be fully removed.
Ends then need to be resin-coated to prevent corrosion, after which the joint needs to be made equal to the strength of the pipe. A butt and wrap sequence and thickness chart should be shown on the fabrication drawings, and the laminate sequence for each size duct should be supported by a separate section in the design calculations.
Alternatively, making joints is quick and easy with PSP® fluoropolymer coated stainless steel duct.
In almost all cases, a flange can be added to pre-existing vent duct installations. The wall thickness of various products being joined may vary, but, fortunately, Fab-Tech can manufacture a matching joint with minimal information.
The minimum information required by Fab-Tech to manufacture a compatible joint is the inside diameter (I.D.) of the existing duct, and the inside diameter (I.D.) and outside diameter (O.D.) of the flange where PSP® is to be attached.
From there, standard Van Stone rotating flanges are simply bolted together, sandwiching a PTFE gasket between them. PSP® Van Stone flange connections provide a 50 to 60% installation labor savings when compared to FRP.
Moreover, with the optional PSP-EZ™ clamp systems, which use a patented and FM approved one bolt clamp connector on 4 inch through 14 inch diameters, an additional 50% labor savings can be realized over Van Stone flange connections.
In Conclusion
Once it is understood that connecting dissimilar materials is indeed possible, we often find that customers want to replace and/or expand their FRP systems to include PSP® because the overall lifecycle cost of PSP® is lower. To help weigh the cost advantages of using PermaShield corrosive fume vent pipe and duct, please read our cost savings blog here.
For this and more information, please download our:
OR
Read More About PermaShield Fluoropolymer Coated Fume Exhaust Duct Here