More Reasons To USE Fluoropolymer Coated Stainless Steel Over FRP Duct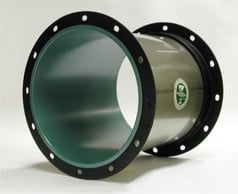 When it comes to corrosive fume exhaust systems, process facilities must ensure that their equipment and practices adhere to strict regulatory standards all while remaining as flexible as possible to adapt to future mandates and regulation changes.
In the midst of this balancing act, facility owners and engineers are finding PSP® fluoropolymer coated stainless steel to be a more versatile, affordable, compliant, durable and safe alternative to fiber-glass reinforced plastic (FRP duct).
Regulatory Compliance
PSP® stainless steel duct with fluoropolymer barrier coating was first used in the semiconductor industry in the early 1990's, and is now seeing rapid expansion into pharmaceutical engineering, solar cell manufacturing, and wastewater treatment facilities. Some of this increased adoption has been driven by regulations like the U.S. Environmental Protection Agency's (EPA) Ruling 40 CFR and the National Fire Protection Association's (NFPA) Standard 318 for clean rooms.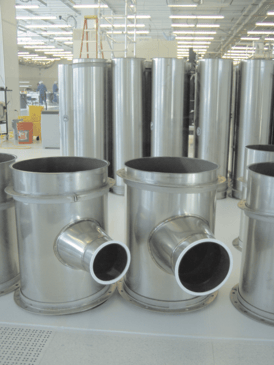 Enacted in 1998, the EPA's Ruling 40 CFR set strict emissions standards for reducing a number of air toxins and hazardous air pollutants (HAPs), including methylene chloride, methanol, toluene, and HCI. It was estimated at the time that the ruling would reduce air toxins by approximately 24,000 tons or 65% from contemporaneous levels.
To meet these regulations, process industries began implementing various technologies ranging from wet scrubber systems to regenerative thermal oxidizers (RTOs) depending on the nature of the process and the facility. The increased use of these air handling systems spurred a demand for advanced duct materials that could reliably handle the highly corrosive vapors that needed to be transported to the vent collecting and destruction systems without compromising plant safety.
Compared to the more common materials like FRP duct, polypropylene (PP), and polyvinylchloride (PVC), fluoropolymer coated vent pipe demonstrated superior versatility in both performance characteristics and standards compliance.
CHEMICAL TOLERANCE
Based on published data from more than 400 chemical applications, PermaShield fluoropolymer barrier coatings far exceed glass, exotic metal alloys, and plastics when tested for corrosion resistance, chemical concentration tolerance, and upper temperature limit.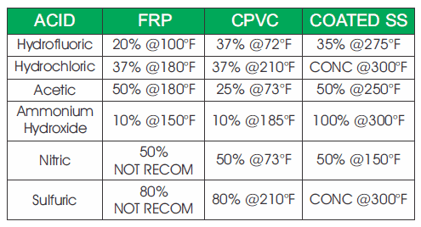 Complete chemical compatibility charts for PSP® fluoropolymer coated stainless steel can be viewed here.
FIRE SAFETY
Just as the intent of the EPA's Ruling 40 CFR was to reduce harmful emissions and make the air we breathe safer, the NFPA Standard 318 focused on making our work environment safer and less prone to the ravages of fire and smoke.
Relative to this standard, PSP® coated stainless steel carries an industry leading fire rating of 0 (Zero) and a smoke generation of less than 20 from the ASTM-E84 tests. Based on these ratings, PSP® vent pipe systems do not require the added cost and installation of internal sprinkler systems, and therefore do not require the enormous expense of up-sizing the facility to handle greywater from the sprinklers.
Additionally, many insurance companies quote favorable premiums for non-combustible systems, while others outright require them altogether.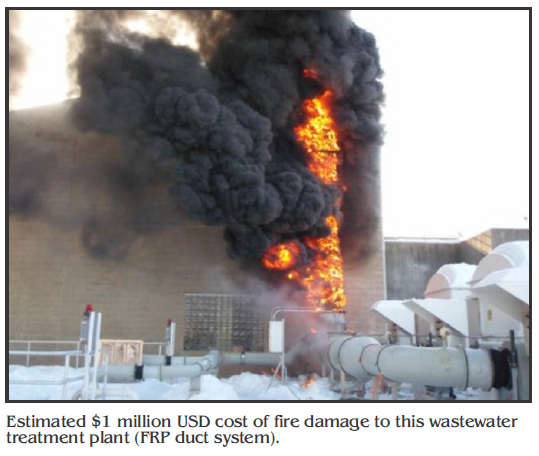 Finally, because PSP® fluoropolymer coated stainless steel duct does not burn, collapse, or leak, the integrity and utility of the system is maintained in the event of a facility fire, whereas an FRP duct system would require substantial clean up, replacement, and disposal costs.
KEY TAKEAWAYS
To conclude, when performing a vent duct system cost analysis, it's not enough to simply compare the per-foot expense of different system materials, it is also critically important to consider its cost relative to often overlooked variables. Such cost considerations should include:
total installed cost of the system

including the mechanical contractor's labor and any necessary add-ons (like sprinkler systems and greywater handling upgrades)

lifetime maintenance, upkeep, and insurance costs

the longevity and capacity of the system to meet future regulatory requirements

and even the cost and ease in which the system may be disposed or recycled in an end-of-use scenario
For many, it's quite clear how PSP® vent duct systems measure up to these considerations, but if you would like to learn more, please feel free to download our general information guide below:
OR
Read More About PermaShield Fluoropolymer Coated Fume Exhaust Duct Here