On-Site Personal WellnesS & Physical Therapy Program
Injury and Health Management Solutions Inc. (IHMS), a local physical therapy, athletic training and rehabilitation service provider has become an integral part of Fab-Tech's wellness program. IHMS comes on-site weekly to do ergonomic assessments and provide physical therapy services for Fab-Tech employees to help alleviate both work and non-work related aches and pains.
IHMS provides "trained and certified Physical Therapists, Occupational Therapists, and Athletic Trainers to work with clients and companies to restore and promote efficient movement and function - leading to improved productivity, health and a better way of life."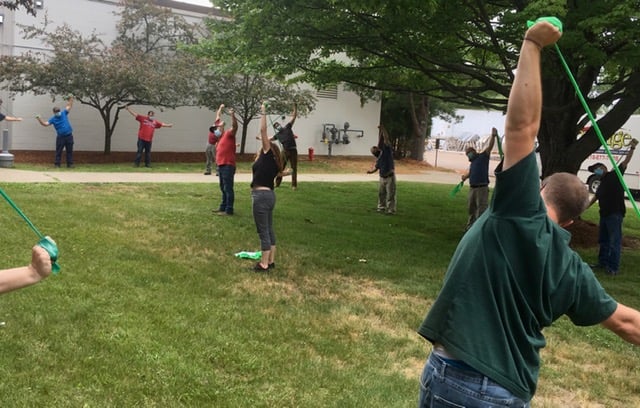 Recently the daily stretch program was updated. As part of the update, Fab-Tech leads and supervisors gathered with the PT outside to learn new stretches. Then the leads and supervisors went back and taught their crew at the beginning of their next shift.
IHMS has been coming on-site for two years now and has been instrumental in alleviating repetitive stress injuries and improving ergonomics in different departments, especially as it relates to multiple products that have been manufactured over the last two years.
The program continues to benefit Fab-Tech employees; promoting health, fitness, general well-being and now team-building through the updated stretch routine with leads and supervisors. Fab-Tech is grateful to operate within a community which offers such beneficial services.