MIKE BARANSKI IS PROMOTED TO DIRECTOR OF MARKETING & SALES AT FAB-TECH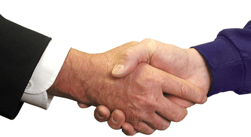 Please join me in congratulating Mike Baranski on his promotion to Director of Marketing & Sales for Fab-Tech. Mike will have Fab-Tech's outside sales team and inside sales operations team reporting to him and will be responsible for growing Fab-Tech's coated duct business. Mike will continue reporting to me as President of Fab-Tech.
Mike came to Fab-Tech in December of 1996 starting in shipping and receiving. He transitioned to the inside sales team in March of 1998. In 2002 Mike was promoted to manager of the inside sales team. Mike did an excellent job managing the inside team. Over the years, he developed strong relationships with the vast majority of our customers. In 2009, he started transitioning to the outside sales team while retaining his role as Inside Sales Manager. In 2011, Mike relocated to Phoenix, AZ to perform outside sales for coated duct while retaining his responsibilities as Inside Sales Manager. In 2013, Mike became General Manager of the Composites USA Arizona coated duct facility in addition to retaining his responsibilities as Inside Sales Manager at FabTech. In 2015, Mike moved to Virginia as a regional sales manager for Fab-Tech.
His tenure at Fab-Tech has confirmed his ability to develop long-term relationships with customers that result in our being positioned as a favored supplier. We look forward to Mike driving business growth through innovative brand building, leadership, strategic planning and operational excellence.
I am excited about the potential growth and continual improvement of Fab-Tech's sales team under Mike's leadership.
Regards,
W. Scott Fine
President Fab-Tech Inc.