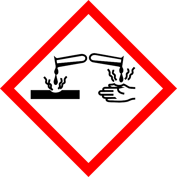 PSP

® Vent Duct Safely Handles Hydrochloric Acid Fumes
Belvidere, NJ - During the manufacture of a pilot run of innovative Vitamin C products, Roche Vitamins set out to solve a long standing problem that many pharmaceutical manufacturers and research labs face with their process ventilation systems.
That is, how to contain and convey highly corrosive acid exhaust without having to perpetually replace the vent duct system.
The original system used by Roche was comprised of Schedule 10 stainless steel pipe welded in place with only a few gasketed connections and transitions. This system was tasked with handling various process related vapors, including alcohol, chloroform, and hydrochloric acid (HCL), which are emitted as a by-product of operating vacuum belt filters during the manufacturing process.
Despite being collected and removed via vent lines to be absorbed in a carbon bed scrubbing process, there were no measures in place to handle the formation of chemical condensation inside the ductwork. As a result, HCL condensate created pinhole leaks anywhere it came into contact with the stainless steel ductwork. This created a need to replace the vent duct system every six to twelve months in order to ensure a safe working environment free of hazardous acid fumes.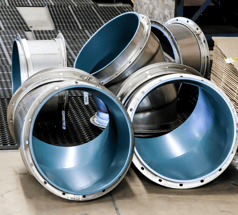 Faced with the many risks, costs, and delays presented by this scenario, Roche Vitamins decided to search for a permanent solution. They considered Resistoflex as one alternative but ultimately decided that they needed a more cost effective system.
After some research, they decided that Fab-Tech's fluoropolymer coated PermaShield Pipe (PSP®) offered the same or better performance as PTFE lined pipe, but it came at a substantially greater value when factoring its longevity, versatility, safety, ease of installation, and zero maintenance.
Roche Vitamins ultimately installed about 100 linear feet of 4-inch and 6-inch diameter PermaShield Pipe (PSP®) operating at a system pressure of -10" wg. They also included 2-inch and 3-inch diameter PSP-EZ™ pipe to connect industrial vacuum pumps to the entire system.
Fab-Tech's single fastener PSP-EZ™ band style clamp system is capable of reducing installation times by 50% over standard bolted flange fasteners.
Finally, connections to various existing system components were easily accomplished using custom ANSI style flanges which are very similar to the industry standard KF connections.
Ultimately, Roche Vitamins realized a tremendous time-to-value savings by making the decision to install PSP® in their factory. Over the course of many years since their initial installation of PermaShield Pipe, the system still shows no signs of degradation from corrosive acid exhaust.
If you would like more information about PSP® corrosive fume vent pipe and duct, please feel free to download our general information guide below:
OR
Read More About PermaShield Fluoropolymer Coated Fume Exhaust Duct Here