Fluoropolymer Coating and Stainless Steel Fume Exhaust Duct Are a Perfect Combination
There's no shortage of corrosive fumes and vapors generated by process industries which need to be safely and successfully vented.
Common exhaust duct materials that are tasked with this responsibility include stainless steel, polyvinyl chloride (PVC), and fiberglass reinforced plastic (FRP). While special glass linings, metal alloys, and a wide range of polymers may be used individually or in combination to help meet particular demands, none seem to solve the breadth of corrosive application challenges like PermaShield Pipe (PSP®) with its proprietary fluoropolymer coating.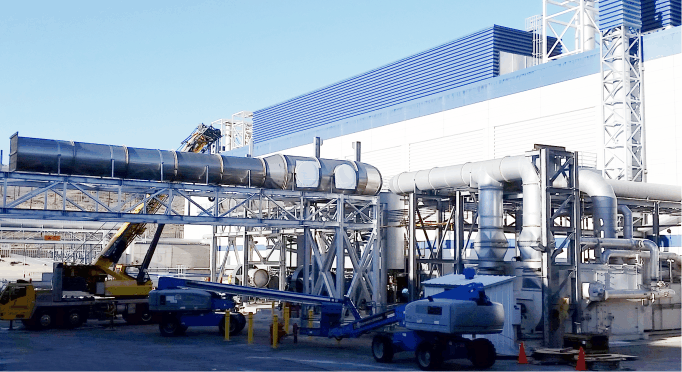 Since structural properties such as strength, brittleness, thermal or electrical conductivity, and temperature resistance all play a role in determining what materials or combination of materials are best to use in any given process, PSP® fluoropolymer coated stainless steel duct stands as the one truly revolutionary material that is versatile enough to handle a spectrum of corrosive fume applications.
Based on the combined advantages of 300 series stainless steel with PermaShield's proprietary fluoropolymer coating, PSP® is finding its way into a growing list of process industries and is already the standard around the world for semiconductor corrosive fume exhaust.
Process industries are choosing PSP® for its superior:
Chemical resistance
Fire resistance
Smoke resistance
Leak resistance
Safety
Longevity and lifetime performance
All of which translate to superior lifetime ownership cost and value.
WHAT IS FLUOROPOLYMER COATED Vent Pipe and DUCT?
PermaShield Pipe (PSP®) is 300 series austenitic stainless steel duct that is applied with a unique primer and fluoropolymer coating technology, which is then heated and "baked" to form a chemical and mechanical bond with the stainless steel substrate.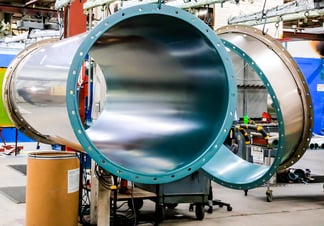 The integrated primer technology assures superior adhesion to the stainless steel, resulting in a coating that will not delaminate. Once applied, the fluoropolymer coating is both visually inspected and spark-tested to guarantee a pinhole-free surface.
Based on evaluations in over 400 chemical applications, PSP® fluoropolymer coated fume exhaust duct has been proven superior to both FRP and plastics when tested for corrosion resistance, chemical concentration tolerance, and upper temperature limit.
Fab-Tech's advanced coating technology was first applied to stainless steel duct in the early 1990's to address a specific need in the semiconductor industry; where plastic and fiberglass products were just not providing enough corrosive fume exhaust performance and safety.
Now, having successfully proven itself for decades in some of the most demanding advanced manufacturing environments in the world, PSP® vent pipe and duct is finding new applications across pharmaceutical, wastewater, university labs, government labs, and various other industrial environments.
Why Fab-Tech?
Fab-Tech works closely with contractors, engineering companies, and facility owners to deliver a "value engineering" solution that meets everyone's needs. The case study featured here demonstrates how Fab-Tech pairs its vent duct solutions with superior technical knowledge and service to keep projects on or under budget and schedule.
If you would like more information about PSP® corrosive fume vent pipe and duct, please feel free to download our general information guide below:
OR
Read More About PermaShield Fluoropolymer Coated Fume Exhaust Duct Here