Sandia National Laboratories Bldg. 858N SW Acid Exhaust
A recent acid exhaust project where we supplied our PSP® to JB Henderson for an installation at Sandia National Labs was recognized for "outstanding specialty work" in an occupied and operational facility.
The project called for more than 2,000 linear feet of PSP fluoropolymer coated stainless steel duct to replace the existing weathered and contaminated FRP duct system.
In order to safely perform the installation of the 48" diameter lateral main line and main line branches, JB Henderson devised a system of off-site prefabricated maintenance platforms that were transported to Sandia and lifted into place. This created the space and access needed for the installation team to carry out both the install and cut-over of the new PSP system as well as the safe removal of the contaminated FRP duct.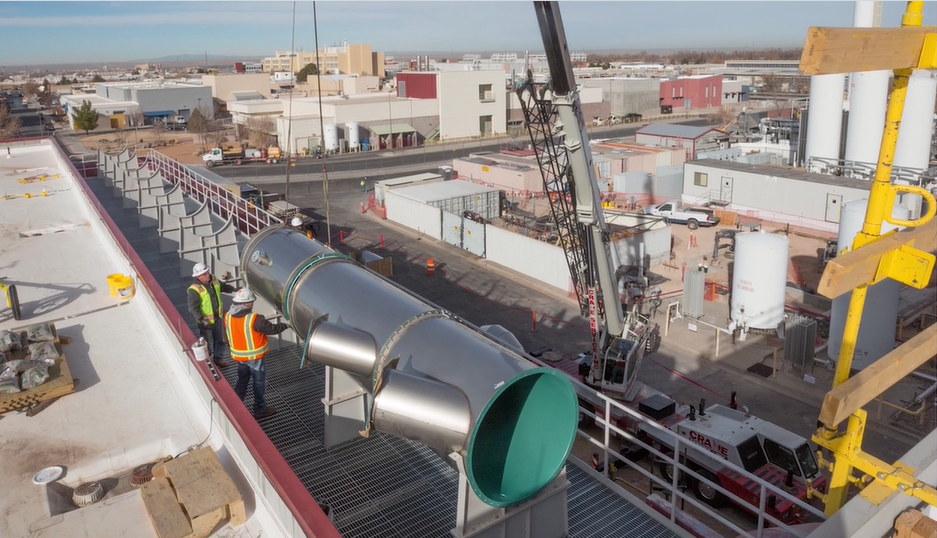 As a result of JB Henderson's innovative approach, the demo of the HAZMAT FRP duct system, and more than 14,000 install labor-hours were completed safely, successfully and without disruption to the occupied and operational Sandia National Lab facility.
Project manager at JB Henderson later commented on their trusted partnership with Fab-Tech, stating "without your company's excellence in working with the customer, understanding of the needs & QUALITY put into your product, this project would never have succeeded. Thanks for all that you do!"
Likewise, many thanks to JB Henderson for their engineering excellence, attention to safety and for giving a new lease on life to Sandia National Labs.
If you would like to learn more about PSP fluoropolymer coated fume exhaust duct systems, please click here
OR
Download our research labs case study below.