A Closer Look At The Class 1 Fire Rating And ASTM E-84 Results of

PSP

® Fume Exhaust Duct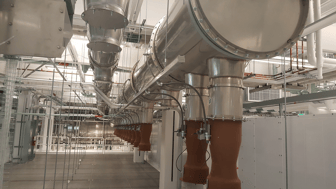 Prior to the appearance of 300 series fluoropolymer coated stainless steel, the most common materials for process ventilation were galvanized steel, polyvinyl chloride, polypropylene and FRP duct.
In today's high-cost high-tech process facilities, strong regulations and higher standards for fire-safety are turning the attention of facility owners, engineers, and underwriting insurers alike toward PSP® fluoropolymer coated fume exhaust duct.
To understand why, let's take a look at how PSP® gets its superior Class 1 fire rating.
ASTM E-84 RESULTS
Stringent codes and fire regulations stress low flame spread and low smoke generation ratings for materials used in industrial and commercial development. An important test that's used to quantify these ratings is the Steiner Tunnel test (ASTM E-84).
The ASTM E-84 test is a method by which the surface-burn characteristics of different construction materials can be measured in a controlled environment. The test consists of an approximately 24 ft long x 2 ft wide x 1 ft high vented, non-combustible tunnel, within which test samples are mounted to fit the full length and width of the ceiling.
The test samples are subjected to a high energy flame under a controlled draft for a set duration. Flame spread is then visually assessed through windows built into the tunnel, and smoke density is measured via an optical meter at the tunnel exhaust.
Flame Spread
Using this methodology, Factory Mutual Research reports show flame spread values for clean-room-grade fluoropolymer coated stainless steel range from 0 to 10. Specifically, Fab-Tech's proprietary fluoropolymer coated PermaShield Pipe registered a perfect score of "0" on the flame spread index (FSI).
To be identified as an official Class 1 duct, the duct and connector materials must have a flame spread rating of no greater than 25 with no evidence of continued progressive burn, and a smoke developed rating of no more than 50.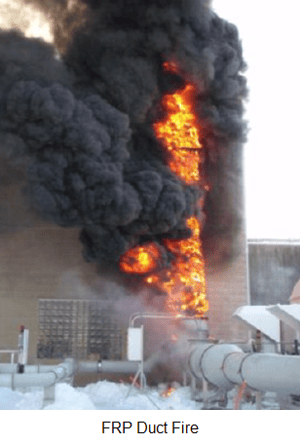 By comparison, the ASTM E-84 results for vinyl ester coated FRP duct show flame spread values ranging from 15 to 20.
Fiberglass requires special resins and fire-retardant agents in order to engineer its class 1 fire rating. The most commonly used resin is fire retardant brominated bisphenol-A vinyl ester. Antimony trioxide, antimony pentoxide or APE 1545 antimony oxide (up to 5%) may also be used.
Smoke
Sometimes in a conflagration, it is not just fire and heat that can cause extensive damage. The tremendous amount of smoke that is unleashed within a building can contaminate specialized or high-purity equipment and the complex as a whole.
In some clean room applications, the costs associated with smoke damage can be up to five times greater than that of fire.
As a result, many facilities seek exhaust duct materials that not only won't burn, collapse, or melt, but which also maintain the lowest possible smoke developed index should fire conditions arise.
According to ASTM E-84 Factory Mutual reports, we find smoke developed index results ranging from 275 to over 3752 for vinyl ester FRP duct systems. The same tests for PermaShield fluoropolymer coated stainless steel duct range from 15 to 35.
Conclusion
Putting it all together, Fab-Tech's PSP® exhaust duct is constructed within SMACNA regulations per specific system pressure classes, and manufactured with a robust stainless steel substrate, rolled angle rings, and proprietary fluoropolymer coating to give its systems the strength, rigidity, and protection required to meet high demands, extreme conditions, unforeseen events, and a range of building codes and specifications.
The bottom line is that process facilities, from wastewater treatment plants to national research labs, are discovering dramatic improvements in fire-safety, insurance costs and life-time ownership costs simply by employing a combination of smart engineering and cutting edge equipment like PermaShield Pipe.

If you would like more information about PSP® corrosive fume vent pipe and duct, please feel free to download our general information guide below:
OR
Read More About PermaShield Fluoropolymer Coated Fume Exhaust Duct Here