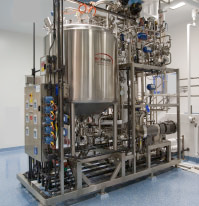 Upstream, Downstream, and Everything Between
Broadly defined, bioprocessing is a form of high-purity manufacture which employs living cells to engineer commercially viable products.
In addition to food, agriculture, fuel, chemical, and environmental sectors, the biopharmaceutical industry is one of the biggest users and beneficiaries of this process.
Across all applications, bioprocessing requires specialized equipment ranging from bioreactor vessels, to filtration devices, mixers and all related piping, stands/holders, and transfer components.