Best Method For Cleaning of Tangential Flow Filtration Equipment
CIP (Cleaning‐In‐Place) and SIP (Sterilization‐In‐Place) are the best methods for cleaning process systems. They ensure safety and efficiency, prevent toxic contamination of products and minimize possible contamination of the process. Well‐designed SIP / CIP systems provide for automatic cleaning and disinfecting without major disassembly and assembly and permit cleaning of one part of the plant while other areas continue to produce product.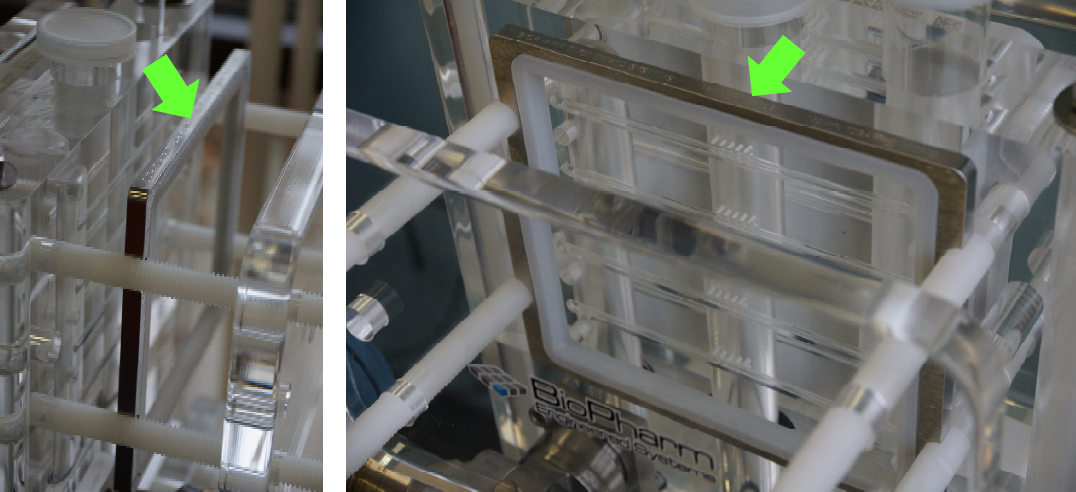 Our Stainless Steel SIP / CIP Cleaning Block offers the ultimate in simplicity, affordability and flexibility for the
performance of cleaning of Tangential Flow Filtration processing equipment. Block's are
manufactured from 304SS with a USP Class VI Silicone gasket and are directly compatible with Millipore,
Pall, Sartorius and BPES Holders.
Get Our Tangential Flow Filtration Holder CIP/SIP Cleaning Block Brochure Here
Clean-in-place (CIP) procedures employ a combination of chemicals, heat and water to clean the interior surfaces of bioprocessing equipment - including tanks, valves, vessels, fittings, piping, and all associated components - without having to disassemble the system.
CIP helps to remove process residues that can accumulate and provide unwanted shelter to thermal resistant micro-organisms and spores.
Advantages of CIP cleaning include the the ease in which the process can be repeated, and the ease in which it can be fully automated. The latter has the added benefit of reducing personnel exposure to potentially hazardous substances, allowing bioprocessing operations to save money on labor, improve production efficiency and reduce turnaround time between batches.
Sterilize-in-place (SIP), or clean steam procedures can be used for multiple objectives including process disinfection, targeted deactivation of an organism, or complete system sterilization. Similar to CIP, sterilize-in-place procedures are used to clean and sterilize without having to dismantle the system.
SIP is a timed-sterilization, temperature-validated process. This means that the process from start to finish must be carried out over a set duration wherein specific conditions and temperatures must be maintained.
Typically the process involves injecting clean steam into all piping and vessels, where it is pushed above a minimum threshold of 250° F (121° C) for at least 30 minutes.
Through internal sensors, the process is monitored and recorded over the time duration. If at any point the temperature drops below 250° F (121° C), a temperature validation fault is triggered and the SIP procedure must be reset.
These measures are designed to ensure that all potential sources of contamination, all internal surfaces, and all potential contaminant traps within the system receive adequate exposure to the sanitizing conditions.
The sterilize-in-place process can be used in conjunction with CIP procedures as a means to ensure a completely sanitized system. Many industry leaders recommend using SIP after clean-in-place as a means to kill remnant micro-organisms that might have escaped the CIP process. Others suggest using CIP after SIP in order to properly flush the system components.
BioPharm Engineered Systems provides specialized engineering, design, manufacturing and support services for a complete range of custom process separation and fluid handling system solutions, including process support systems and infrastructure like:
Clean-In-Place (CIP) Systems

Continuous Sterilization Systems

Decontamination & Bio-Waste Systems
For more information about our Bioprocessing Equipment offerings, download our capabilities guide here.
OR
Visit our Bioprocess Engineering Solutions page here.