Benefits of Electropolished UHP Stainless Steel
Biopharmaceutical equipment must be manufactured to the highest quality standards and with the highest quality materials and finishes if it is expected to meet stringent clean room standards, meet heavy production demands, and facilitate easy and efficient clean-up. This is why 300 series stainless steel is often used in the fabrication of bioprocessing equipment and related product contact surfaces; as it provides strength, durability and contamination resistance.
Despite these qualities however, stainless steel still contains microscopic surface textures and imperfections which can be treated and/or eliminated through various mechanical, chemical, or electrochemical finishing procedures.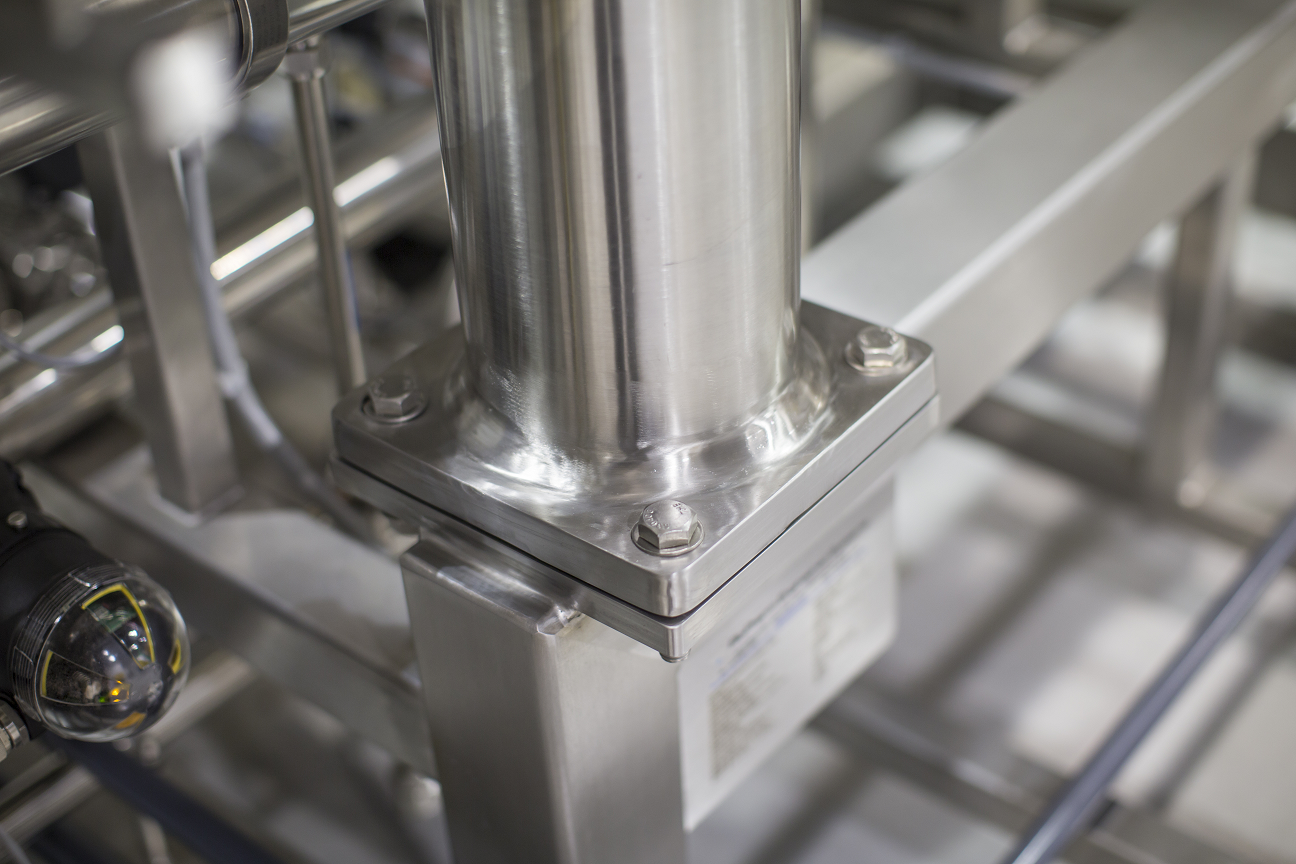 Among the various techniques that are available, electropolishing stands out as a favorite because it is highly effective at leaving the metal surface perfectly smooth and featureless. The method involves applying a chemical wash or bath to stainless steel surfaces and subjecting the solution to an electric current. The reaction of the chemical bath and electric current effectively dissolves the free iron that is located near the material surface, thus creating a chromium enriched surface layer. This eliminates unwanted impurities, microscopic peaks, valleys and textures from the surface plane, creating a near perfect and highly polished finish.
The advantages of a properly electropolished surface include:
Appearance: Electropolishing leaves a shiny and ultra-smooth microfinish which is not only appealing to the eye, but helps to deter the accumulation of bacteria, oxidization, scale and heat tint. Furthermore, the clean and highly polished finish makes it easier to detect when these impurities do begin to form.
Easy Cleaning: Given the ultra-smooth quality of an electropolished surface, cleaning can be effectively achieved in less time and with less effort. "Some companies report that electropolished process equipment surfaces have reduced cleaning time by more than 50 percent." [1]
Effectiveness:

Electropolishing

is good for deburring, cleaning and polishing all at the same time. Moreover, it is capable of treating areas that cannot be reached by other techniques, and it can treat large areas and/or batches of parts efficiently.
Corrosion Resistance:

Electropolishing is highly effective at removing undesirable metallic inclusions which would otherwise become easy targets for corrosion and tarnish.
At BioPharm Engineered Systems, we emphasize quality at every stage of manufacture - from the design of our bioprocessing equipment down to the finish of the materials we use.
For more information about our Bioprocessing Equipment offerings, download our capabilities guide here.
OR
Visit our Bioprocess Engineering Solutions page.
---
Sources: