Attention To Detail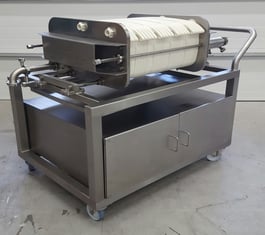 Here at BPES, we understand that every biopharmaceutical facility is unique in its size, shape, design, equipment and process.
In order to meet the often diverse storage and transfer needs of highly specialized high-purity manufacturing spaces, custom clean room carts and tables are a must.
Clean room carts and tables carry specialty tools, bioprocessing equipment, chemicals, biological samples, computers and more. Therefore, the quality and design of their construction is critical for personnel safety, equipment safety, and maintaining clean room standards.
In addition to material selection and finish, it is important to pay attention to subtle design features when custom fabricating clean room utility carts and tables. Here's a list of 3 features that should not be overlooked: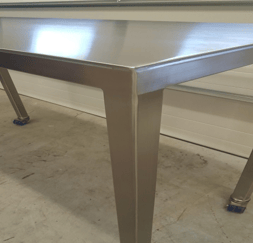 1. Contoured Edges
Smoothed edges on transfer carts and tables can improve overall safety to both workers and equipment in a clean room environment.
Beveled edges and rounded corners helps to reduce the risk of critical damage to sensitive equipment in the event of an impact, as well as reduce the potential for cuts and wounds to workers, thus reducing contamination potential.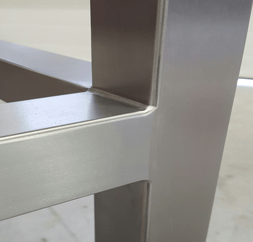 2. Seamless Welds

Clean room transfer carts and tables need to be cleaned, washed, and sterilized on a regular basis in order to maintain proper clean room standards and to prevent the introduction of contaminants to high-purity work spaces.
The elimination of unnecessary seams on carts and tables, which are designed to be in contact with a wide range of materials and substances, allows for easier cleaning and sterilization by reducing locations for bacteria to accumulate and cross-contaminants to reside.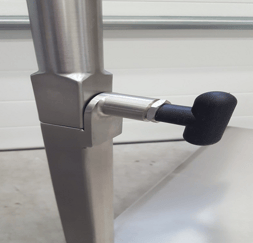 3. Versatility
Given the spectrum of specialty tools and custom equipment that needs to be carried by clean room utility carts, it helps to design them with multifunctionality in mind.
Adjustable handles, surfaces, and holding components enables greater versatility from a single cart to carry equipment of varying sizes and configurations; thus saving space, time and money.
With that said, all of our carts and tables are custom built to your specific request.
BPES custom clean room carts are built to safely transport items from clean room to clean room or to serve as extra bench and desk space. From moving instruments to holding pumps and filters, or taking critical samples, our custom clean room carts and tables are designed to the exact dimensions and specifications you require.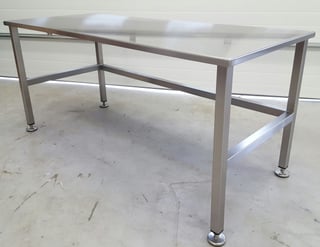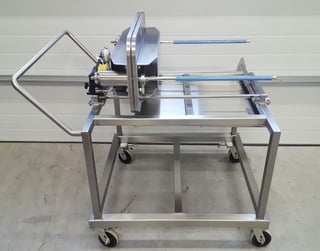 Our facility handles the entire process in-house from design to manufacture to shipping, with a focus on quality control during every stage. All of our custom fabricated clean room carts and tables are built to the highest performance standards, and always with the aim to:
Optimize space and organization
Improve safety
Increase productivity
Enable reconfiguration
Save time and money
BPES custom clean room carts and tables can meet the specific requirements of any clean room application, and can be built-to-order from a range of different stainless steel materials and surface finishes. All of the fabrication is performed here in the USA in our stainless steel only fabrication facility.
If you would like to learn more, please feel free to check out our Custom Fabrication Services.