Allows Up To 4x Concentration of Product with One Single Pump Pass
The unique configuration of the BPES high performance single‐pass tangential flow filtration holder allows the retentate from the first bank of filter modules to be fed directly into the feed port of the 2nd bank of filter modules. This can be repeated from 2 up to 4x. This allows up to a 4X concentration of product with one single pump pass.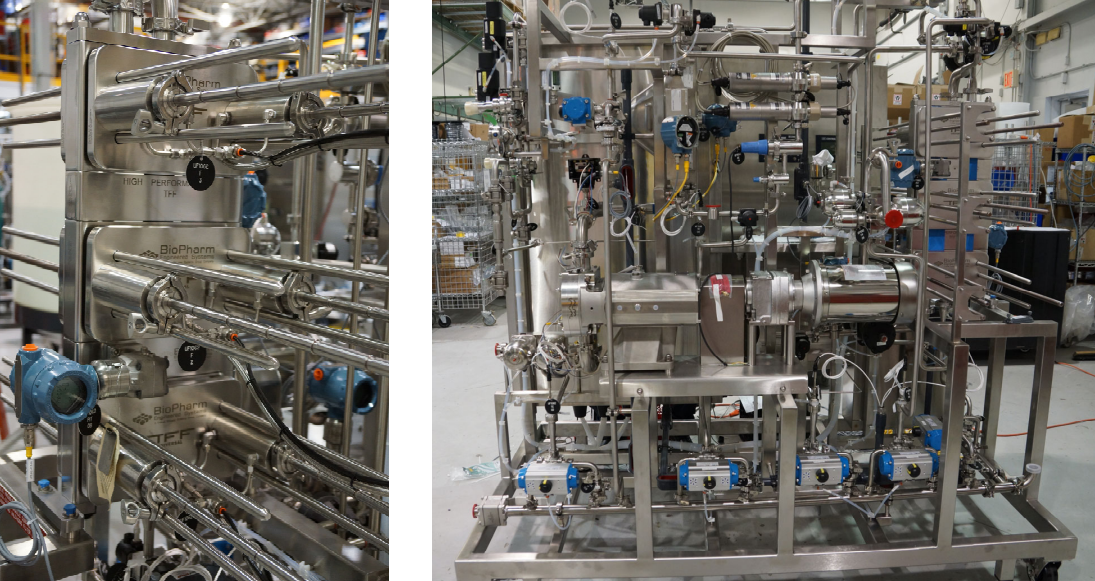 Reducing the number of pump passes will provide higher product yield, and reduced product temperature rise from pumping. The permeate and retentate generated from this process will be collected in isolated streams at the outlet of the filter holder. Holder is directly compatible with Millipore Sigma & Pall UF Cassettes, Sartorius and others can be loaded with optional adapter plates.
Download Our High Performance Single-Pass Tangential Flow Filtration Holder Brochure Here
Product Details:
Membrane & Holder

Description

TFF Device:
Ultra Filtration Cassette
Membrane Manufacture:
Sartorius / MilliporeSigma / PALL
Min/Max Filter Area:
.20m2 to 80m2 (Subject to Filter Membrane Manuf. & Model)
Holder Closure Mechanism:
Manual and Hydraulic
SIP / CIP Capable:
Yes
System Process Connections:
1.5"(40mm) up to 4" TC Feed & Retentate / 1" (25mm) up to 2" TC
Permeate/Drain ( Dependent on filtration area required)
Product Contact Material:
316L SS, AL6XN or Hastrelloy
Elastomers:
USP Class VI EPDM / Teflon/ Silicone
ID Finish (wetted surfaces):
15ra u‐in W/Electro Polish
OD Finish (non-wetted surfaces):
35ra u‐in Mechanical Finish
Passivation (wetted surface):
Yes
MAWP:
6.8 Bar (Subject to Filter Membrane Manuf. & Model)
Feed Flow Range:
Dependent on filtration area required
Documentation:
1 Hard and Soft Copy Turn‐Over‐Package (TOP) Provided
BioPharm Engineered Systems provides specialized engineering, design, manufacturing and support services for a complete range of custom process separation and fluid handling system solutions. Our core competencies include:
Process Equipment and Modularization

Upstream Processing Systems

Downstream Processing Systems

Process Support Systems/Infrastructure

Custom Processing Systems

Batching and Blending Systems

Single Use/Disposable Support Systems

And more...
For more information about our Bioprocessing Equipment offerings, download our capabilities guide.
OR