Custom

Planova

Filter Stands Increase Production Efficiency and Reduce Contamination Risk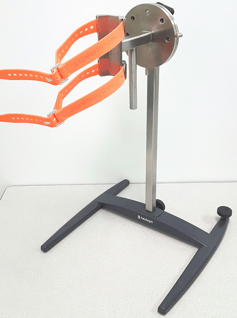 The advent and rapid commercialization of new biological molecules such as monoclonal antibodies, vaccines, recombinant proteins and blood derivatives has led to a radically re-imagined pharmaceuticals manufacturing environment.
Drug-makers are now being challenged to quickly produce pilot batches of new protein based medicines and rapidly scale these to production quantities.
The movement away from large "blockbuster" drugs to smaller batch drugs that are targeting a smaller population has led to the development of facilities that can produce multiple products flexibly and scalably while still meeting GMP (good manufacturing practices).
Eliminating the risk of contamination is the greatest challenge faced by manufacturers of biopharmaceuticals. Until recently, production facilities utilized large stainless steel reactors and hard-piped equipment because they were designed for long production runs of standardized products. Unfortunately, stainless steel equipment often requires a complex sterilization process, such as using steam, which can be expensive and hazardous. This causes significant cost and time delays when moving to a small to mid-sized batch business model.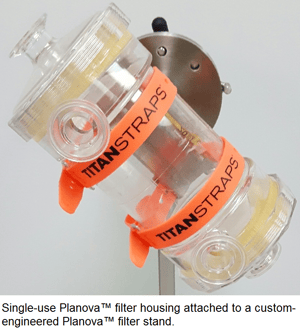 Enter Single-Use Technology (SUT).
In the biopharmaceutical industry, the term "single-use," refers to
disposable
products that are intended for one-time use and are disposed of after.
Single use products, subsystems or even entire bioprocessing systems come fully-sterilized from the equipment manufacturer.
Single-use-technology (SUT) reduces or eliminates the need for sterilization between batches, resulting in:
Improved operational efficiency

Increased flexibility

Decreased time to market
Technical advances in SUT equipment has spurred the rise of end-to-end single-use bioprocessing facilities and an industry of peripheral products.
The SUT market includes all kinds of systems and components such as disposable bioreactors, single use media bags, disposable mixers, samplers and more. Single-use systems (SUS) can reduce capital costs and reduce time-to-market for many drugs. Still, further efficiencies can be gained by adapting changeover processes to suit single use technologies.
A great example of this emerged from the use of Planova™ virus filtration equipment. Planova™ filters are manufactured in strict compliance with U.S. Food and Drug Administration In-House Good Manufacturing Practices (GMP), and are widely recognized for their proven ability to filter virus particles from solutions without affecting the function of most proteins.
The growing demand for this product also brought with it a need for tools to handle the filter housings so that single-use valves can be added in a clean and sterile environment.
BioPharm Engineered Systems (BPES) rose to the challenge, providing an engineered solution to further reduce process change-out times and reduce the risks of contamination during fit-up.
Custom Planova™ Filter Stands by BPES allow for safe handling and holding of Planova™ single-use virus filters by limiting points-of-contact with potential contamination sources, and allowing for convenient, reliable filter module orientation for rapid component changes.
The configurable apparatus holds the filter in place with quick straps for easy loading and unloading, and it can be rotated from 0° to 45°, and 90° with the pull of a single pin.
See it in action here:
Custom Planova™ Filter Holder Demonstration from CPS Group Marketing on Vimeo.
The custom filter holder is capable of handling two different filter sizes:
1m2 Filtration 20N Filter / 5 cm Diameter / 34 cm cap to cap (TC end to TC end) Long

4m2 Filtration 20N Filter / 11 cm Diameter / 34 cm cap to cap (TC end to TC end) Long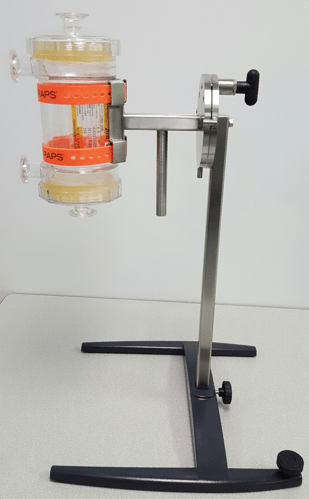 Conclusion
In the Biopharmaceutical industry there's one thing you can count on and that's change. There are always new products on the horizon which result in new processes to support.
Here at BioPharm Engineered Systems (BPES), our engineers are continuously working with customers to support their production needs, provide innovative solutions, remove bottlenecks, reduce costs, improve quality and increase productivity.
Our Custom Planova Filter Stands are just one example of the many ways in which our engineers seek to support and solve for the needs of our clients.