Methods and Benefits of TFF In DownStream Process Filtration
Various methods and systems are available for the separation of cells from culture media in downstream bioprocessing. The most common include filtration, flotation, flocculation, and centrifugation (1).
Filtration is perhaps the most popular technique for separating contaminants from process fluids.
During process filtration, different flow-through mechanisms can be used with an assortment of membrane media differentiated by porosity, or molecular weight.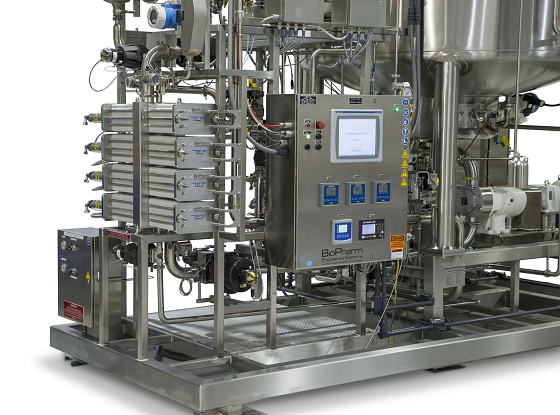 Depending on the objective and which stage of the downstream process is being served, microfiltration (MF), ultrafiltration (UF), and nanofiltration (NF) can be applied.
Microfiltration (MF) is useful in the early stages of downstream processing for the "recovery" or isolation of bio-product away from bioreactor waste-material and micro-particulates. MF helps to clarify the feed in the upstream harvest (2). Microfiltration can be used to separate microorganisms and suspended particles ranging from .1 to 10 μm in size.
Ultrafiltration (UF) can be introduced to the intermediate phase of the downstream process, preceding or following purification chromatography. Here, UF is an effective method for protein concentration and buffer exchange prior to the polishing chromatography phase. Ultrafiltration separates macro-molecules ranging from 0.001 to 0.1 μm in size.
Nanofiltration (NF) is one available method for end-process sterilization. NF is employed to sterilize the UF retentate from microbes and viruses, and remove insoluble proteins in preparation for formulation and filling. Nanofiltration separates molecules that range from 1-10 nanometers (nm) in size.
TFF ADVANTAGE
Normal Flow Filtration (NFF, dead-ended) allows filter cake to accumulate on the surface of the filter which can cause fouling of the membrane. TFF (tangential/cross-flow filtration) inhibits the fouling process by continually sweeping the membrane surface, keeping the membrane clear to perform its separating function.
This increases the length of time that a filter unit can be operational and it is a benefit that can be leveraged to fit a continuous manufacturing process for larger-scale production facilities.
For smaller production scales and/or batch models, where changeovers are frequent, studies have shown that the use of disposable/single-use tangential flow filtration membranes can reduce processing steps and labor by 50%, reduce water usage by 75% and improve production capacity up to 45%.
Conclusion
Tangential flow filtration systems are a versatile and efficient solution for virtually any form of filtration, purification, and/or clarification at any phase of the bioproduction train.
BioPharm Engineered Systems (BPES) Tangential Flow Filtration Systems are designed and built to the specific requirements of microfiltration, ultrafiltration, or nanofiltration applications. Our process development team works closely with clients to generate a system specification that meets their processing needs. Typical TFF applications include fermentation cell culture clarification, diafiltration, protein purification/concentration, and blood fractionation processing.

Each system is designed to maximize product recovery, maximize yield, and minimize its overall footprint. Ease of use for the operator is always paramount during the design layout process. BPES custom TFF systems can vary in size and complexity, but all are designed to incorporate any commercially available membrane configurations and molecular weights. Our expertise ranges from manual benchtop systems to large (>200 m2), fully factory integrated production systems.
---
Sources:
(1) http://www.biologydiscussion.com/biotechnology/downstream-processing/stages-in-downstream-processing-5-stages/10160
(2) http://biomanufacturing.org/uploads/files/92268253567700668-chapter-11-restricted.pdf