BPES' Process Control Interface PCI™ comes SCADA-ready
Our Process Control Interface (PCI) is a highly flexible, open source automation system that comes available on all BPES process skids. Our user-friendly standard software configuration enables automated process control and easy integration with other systems and entire process facilities.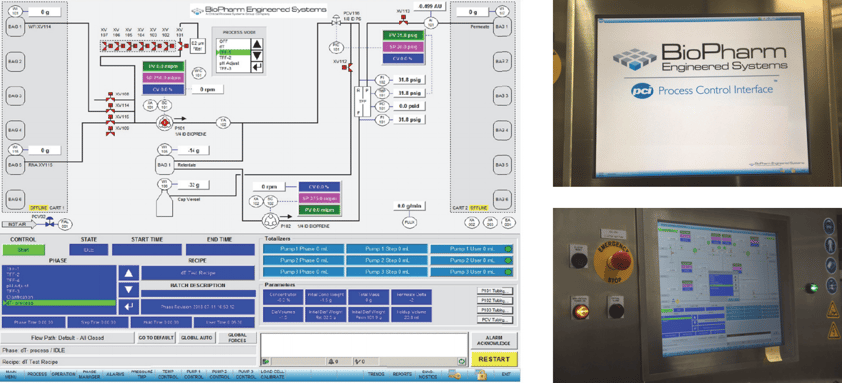 Process Control Interface
Description
HMI:

Rockwell Factory Talk View SE with Windows:

Provides the touch screen operator interface to the control system.
Graphical animated P&ID always visible with status and faceplate displays for all detailed control functions.
Valves, pumps, instrument values, discrete devices, flow paths are all dynamically displayed.
Trends (real-time and historical).
Alarm and event summary.
Phase control and status.
Diagnostic and configuration functions.
System Security (can be linked to Windows).

Phases & Recipes:

Phase Manager:

Used to create and edit phases.
Phases can be linked together to form an Operation.
Uses the S88 State Model.
Every function is defined for each step in the phase sequence including:

Step description.
Flow path.
All control loop modes and set points.
Analog alarm enable/disable.
Prompt (information or question).
Restart step.
Step Transition. Phase steps advance based on one or two transitions used in a boolean expression. Available transitions include totalizers, timers, instrument values, derived data values, control loop states and prompt acknowledgment.
Hold, Abort and End flow paths are defined for each phase.

Recipe Editor:
Defines control set points, alarm set points and transition variables used by the phase. All set points can be defined in the phase or use the recipe variables on a step by step basis.
Report Client:
Used to view reports. Data retrieved from secure SQL server database. Query by Batch ID or date/time. Print and/or save report data for viewing in Microsoft Excel.
Click here for a downloadable and printable version of the Process Control Interface data sheet.
For more information about our Bioprocessing Equipment offerings, download our capabilities guide here.
OR