Honoring Fred Elsey's Successful Career and Retirement
When Fred Elsey and Darren Willey started Diversified Fluid Solutions (DFS) in 2009, they had decades of experience, industry contacts, a worthy reputation, and faith that they could create a company with unmatched value. Ten years later, DFS has grown from 6 to 130 employees and business is stronger than ever.
Thanks to the hard work and dedication of the growing team, Fred was recently able to announce his retirement with a firm sense that his original vision will endure.
On May 24th, DFS employees gathered to celebrate the many achievements of the past 10 years and to honor co-Founder Fred Elsey and wish him the happiest of days ahead.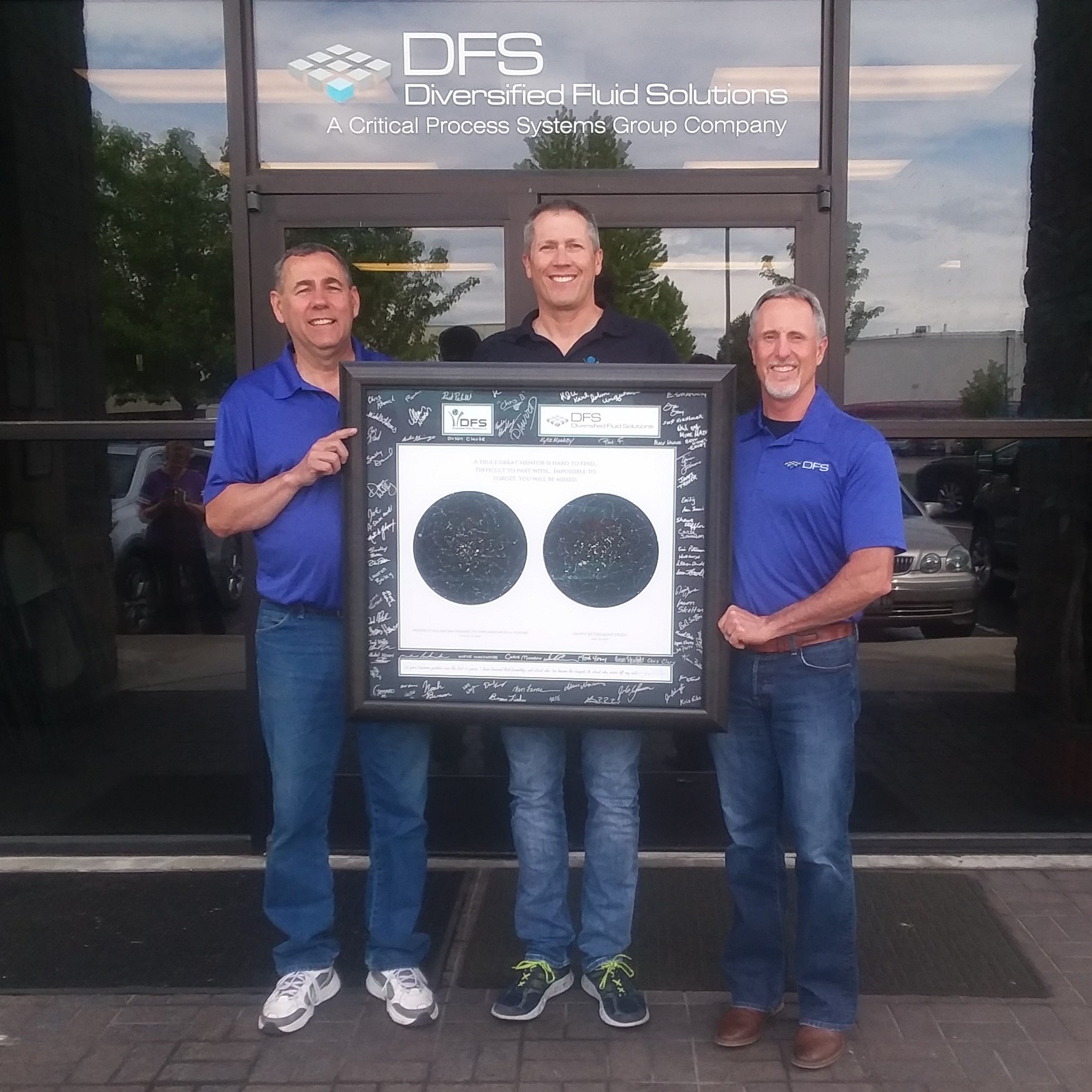 Above Left: Fred Elsey, Center: Darren Willey, Right: Kyle Mackey. Kyle Mackey, DFS Supply Chain Director since 2016, has been named DFS General Manager.
"As a founder, Fred built DFS to be a leader in chemical and gas handling systems for the semiconductor industry" Mackey said. "Fred has left some big shoes to fill but he also left a company that's well-run, profitable, enjoys a great earned reputation in the industry, and I am honored to take his place."
One of the defining moments of Fred's career was when Joe Parkinson, one of the original co-founders of Boise's largest Semiconductor company, hired Fred to manage the installation, construction and maintenance of the site chemical delivery and blending equipment. Throughout Fred's 20 year career there, Elsey became the department manager and global technical adviser for chemical equipment.
In 2008, manufacturing chemical blending and distribution equipment was no longer going to be the Boise chip maker's focus, allowing Fred to see a new opportunity.
"Chemical equipment is not a chip making core product... I thought it was a good business and I enjoyed it, so it seemed like a good time to start a company," Fred said.
Fred began to collaborate with Darren Willey, a colleague who managed system design and technicians under Fred. Together they formed DFS with Fred's wife Susie, who handled the new company's back-office needs. They recruited a team of engineers, technicians, fabricators and sales staff as the opportunities grew.
The DFS "Original Six" included Darren Willey, Fred Elsey, Susan Elsey, Chris Hanson, Paul Lyons, and Don Lema.
DFS's first customer was a large Semiconductor company in Oregon, followed shortly thereafter by a University in upstate New York. For the New York project, DFS worked in partnership with Adam Tarr at NEHP. Adam introduced Fred to additional business connections at Critical Process Systems Group.
By joining the CPS Group in 2013, DFS was able to access needed capital to expand its operations and research. With this investment DFS has become a global leader supplying high purity Gas and Chemical systems to the semiconductor manufacturing industry.
DFS is forever thankful to Fred for his vision, drive, and tireless commitment to our success!