In Recognition of Paul Lyons - DFS Fluid Management Systems Engineer
Paul Lyons, one of the first employees of Diversified Fluid Solutions, has left the company to take an engineering position elsewhere.
"Paul was a critical contributor in building DFS to where it is today, due to his knowledge, technical skill and passion for creating the best fluid blending and distribution systems possible," said Fred Elsey, CEO of DFS. "Paul's dedication started when we were just getting off the ground and he has been a key factor in making DFS a leading supplier of advanced fluid management systems to the semiconductor industry."
Diversified Fluid Solutions (www.dfsolution.com) is a leading manufacturer of fluid and gas control/blending/distribution systems for semiconductor manufacturers. Lyons's first job for DFS was designing a fluid handling system for the State University of New York nanotechnology laboratory (SUNY CNSE or CNETI). That system is still in use, as are similar Lyons-designed DFS systems at semiconductor manufacturing plants worldwide.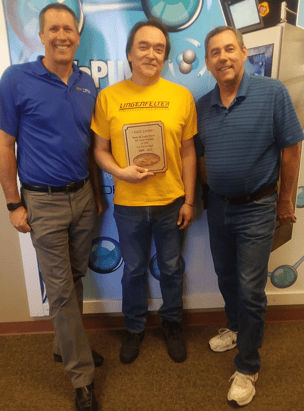 Elsey, President Darren Willey and others started DFS in Boise in 2009. In 2013, Critical Process Systems Group (www.cpsgrp.com) purchased DFS. CPS Group is a conglomerate of manufacturing and design companies providing products and services to multiple industries including semiconductor, life science, solar, gas systems, wastewater and university research labs. Other CPS Group subsidiaries include Bio-Pharm Engineered Systems (Andover, Massachusetts), CPS Process Solutions (Maynard, Massachusetts), ENGVT (Richmond, Vermont), Fab-Tech Inc. (Colchester, Vermont) and NEHP (Williston, Vermont).
Lyons has accepted a position at the Stover Group, a Boise company specializing in water treatment engineering and technology. Lyons earned an Associate's Degree from Boise State University in mechanical drafting.
Image: Darren Willey, left, and Fred Elsey, right, present Paul Lyons with a plaque to thank him for his years of dedication to Diversified Fluid Solutions in Boise.