Defeating Overproduction With Lean Construction
In construction, overproduction waste is among the worst of the 8 wastes of lean. It unnecessarily consumes time, effort, money, materials and resources that could have been better spent elsewhere, leaving your organization with the burden and logistics of dealing with excess inventory.
More so than any other Lean construction waste contributor, overproduction has the ability to overshadow all other problems within your organization. [1]
Causes of Construction Overproduction
To get at the root of overproduction waste for construction programs, we must not be afraid to engage, ask questions, and review processes and procedures. As you can see, "asking questions" should be your initial step. Most companies and their personnel are generally unaware of overproduction. This usually stems from improper training, lack of familiarity with lean principles, or just accepting the status quo.
In addition to lack of awareness, construction overproduction is largely caused by faults in the planning and execution process.
Such faults often include:
The desire for longer than necessary production runs and product batch sizes due to long setup times

Ordering more supplies than necessary, just in case

Expecting disrupted production flows

Unbalanced production stages, cells, or departments

"Forecasting" what the customer might want in the future, creating a false demand

A well managed off-site construction integration facility helps eliminate overproduction waste.
Effects of Construction Overproduction
Overproducing causes companies to draw on capital for extra materials, unnecessary tools and machinery, additional facility capacity, and excessive inventory space. This not only creates cash flow constraints, it can cripple an organization. Overproduction has indeed contributed to many company failures.
Overproduction waste can create a domino effect. It often begins with a false demand or inaccurate calculation of what is actually required to complete the scope of work. Starting a process with incomplete information will drive inefficiencies throughout the entire operation. These inefficiencies may then follow a progression which leads to additional waste, such as:
Over-staffing

Over-supplying

Over-shipping

Growing distrust for the reliability of your own processes and construction ERP software programs

Fears of making change

Fears of listening and/or speaking up in front of management
All of this serves to reduce awareness and diminish reporting accuracy which can further reinforce the problem at hand.
Solutions for Construction Overproduction Waste
Eliminating overproduction essentially boils down to making only what the customer demands and avoiding "just-in-case" production habits. A Just In Time Construction (JIT) delivery model is the preferred approach. JIT can be largely achieved by: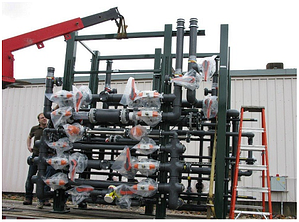 Running smaller batch sizes

Creating more reliable processes, and trusting in them

Establishing stable schedules

Balancing departments

Using accurate information to map actual demand
Everyone in your company has the ability, and responsibility to affect change. Promote and develop this awareness and you will find it much easier to implement the principles of Lean construction to reduce overproduction waste.
In closing, there's really no shortage of available tools, programs, and resources to help combat construction overproduction among other Lean waste. It's just a matter of choosing to start somewhere, partnering with other Lean advocates, setting examples, and committing to learning, growing, driving results, solving problems, and being collaborative.
Finally, keep in mind that implementing Lean practices and or principles is a continuous journey. By taking small steps and working together with other Lean champions, your company will benefit and will see continuous improvements.
Continue to Part 3 of our 8 Wastes of Lean Construction Series, where we examine "waiting" as a primary waste contributor.
If you would like to learn more about useful Lean methods for construction productivity improvement, please feel free to:
Visit Our Lean Construction Integration Page Here