DFS Uses Custom Metal Fabrication Expertise To Develop Electrician Training Table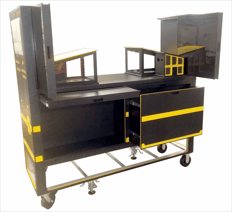 Part of what comes with specializing in the development of high-purity-high-precision systems is a talented pool of intelligence capable of performing unique plastic and custom metal fabrication projects.
In fact, it's not uncommon for us to recieve requests for custom products like this multi-functional electricians training table.
Given Diversified Fluid Solutions' commitment to schedule, technology, and service, we were thrilled to be presented with an opportunity to combine our experience and standards into an educational product.
While DFS is most known for advanced fluid and gas process control systems, we also do a lot of custom industrial cabinet work because of our expertise in plastic and custom metal fabrication. The educational table featured here was developed for an Idaho school that trains electricians.
The project was especially fun for our fabricators, because the client wanted some decorative touches, such as the yellow striping.
We also constructed a miniature "house" that will light up and transparent boxes to contain electric motors for testing. The unit, built to the client's exact specifications, also has slide-out blackboards and tables and is movable and lockable.
Click here to learn more about our services.
OR
Click here to learn about our chemical blending and fluid management systems.