In Recognition of Susan's Countless Contributions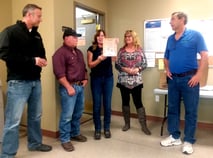 Employees of Diversified Fluid Solutions recently gathered to wish Susan Elsey, one of the company's first employees, a fond farewell.
Susan, wife of CEO Fred Elsey, helped found the company in 2009 along with Fred Elsey and Darren Willey. Over the years, Susan has worked in accounting, human resources, inside sales, graphic design and just about every other role needed to keep the company going.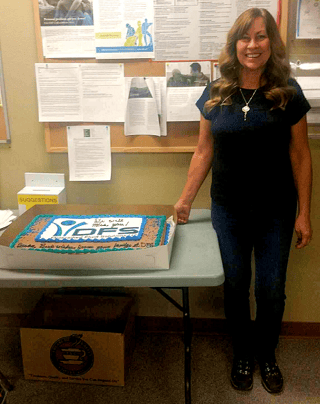 "We've accomplished some amazing things at DFS over the years and I've loved working with all of you," said Susan. "While it's sad to leave such a great group of people, I'm happy knowing we've worked hard over the years to make DFS a leading company in our industry."
Susan will still show up at the DFS offices for visits and may help out again as needed, but she plans to devote more time to remodeling her home, landscaping and getting back into riding her horse.
"We used to joke that DFS stood for Darren-Fred-Susie because she has been so important to this company," Fred Elsey said at the going-away party. "Susie did a terrific job holding things together in the back office, so that we could focus on making the best process control and chemical blending systems in the world."