Adapting To Our Industry Resource Challenges
Change is inevitable and critically necessary to influence competitive progress. Execution models need to change. It's real...and it's referred to as a "nuclear" resource issue for the construction industry. With bidding wars for talent, construction projects at ten year highs, job creation growing 2x faster than labor pool availability, and 10,000 baby boomers retiring every day (which is most of our labor talent population today), we face a resource challenge to say the least.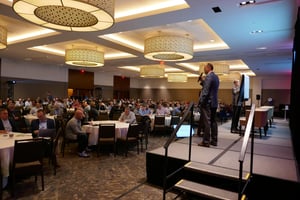 Together we need to inspire and encourage new innovative offsite manufacturing (OSM) productivity solutions and practices to reduce the strain of limited labor resources. The shortfall of skilled and technical labor resources has a direct bearing on construction project cost and schedule, and I feel it is one of my responsibilities to help support change for the future of our industry.
Some of what's required to enable critical change includes:
Smarter innovative automation technology software
Improved design flow
Personal commitments to stimulate creativity through other means and methods
Weekly open mindset training sessions for continuous improvement and adaption
Supply chain optimization to embrace new limits for OSM, fabrication, and modular productivity solutions
Many current practices of manufacturing and fabrication are being transformed by disruptive technologies. These technologies help to offset resource insufficiencies, create project productivity, minimize downtime, and provide greater revenue.
Disruptive technology is a hot buzzword in most industries, and OSM manufacturing is no exception. With powerful technologies like AI (Artificial Intelligence), ML (Machine Learning), IIoT (Industrial Internet of Things), AR (Augment Reality), and Cloud Computing, lean based practices can be leveraged to achieve greater efficiency and greater results with fewer construction resources.
Still, skilled and technical labor resources are needed in our industry, and these resources can be grown and fostered by connecting, learning, and sharing together.
Connect / Learn / Share
Educate weekly on new industry-available smarter technologies and practices
Leverage creative new vendors, suppliers, and manufacturers
Be proactive in adopting new opportunities by connecting with millennials
Embrace purpose driven construction means and methods – Evolve or Die
Early alignment and super clear, concise, upfront demarcation commitments
Embrace and train for full behavior mindset practices to implement innovative solutions
Motivate and incentivize teams on performance goals or milestones – make it about them
We at Critical Process Systems Group (CPS) believe success is grounded in adaptation, which is why we provide innovative product solutions to create improvements and change within the industries we serve.