DFS ACvFLO™ Gas Delivery Systems Set a new standard in Gas Cabinet Technology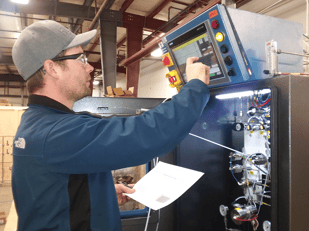 To serve today's Semiconductor gas market; DFS employs advanced technical knowledge, build capacity, and programming expertise to develop game-changing gas delivery systems.
The ACvFLO™ High Purity Gas Cabinet System has advanced functionality and capabilities not seen in the Semiconductor industry to date.
These advancements include an open, fully integrated PLC and HMI panel, with connectivity and networkability, operational sequences, and automated pressure control.
Key Benefits and Features

This Gas Delivery System is designed to provide uninterrupted gas flow to process production tools with minimal technician intervention.
1) The intuitive HMI interface allows users to easily configure the unit for Full Auto Mode supply. For more advanced and experienced users, the system offers the flexibility of a Manual Control Mode to perform service, configuration, and start-up related activities.
2) The DFS cabinet pressure control system automatically controls supply point pressure without the use of manual regulators.
3) During normal supply, the system is capable of automatically adjusting the delivery outputs to address the inverse gain effects from a depleting cylinder pressure.
4) Once a cylinder is placed online, it's no longer necessary to make additional adjustments to the supply regulator to maintain the pressure set point. Pressure control is accomplished by using our proprietary algorithm to control the system's proportional responses in real time via dynamic feedback from the supply side pressure transducers.
5) At the end of the day, the net-benefit of this advanced automation is increased process control and up-time. Moreover, by eliminating the need to open the cabinet for manual adjustments, technician interface is reduced by 30%, thus improving overall safety.