DFS High Purity NITROGEN (HPN2) BULK GAS SKID
The DFS High Purity Nitrogen (HPN2) Pressure Control and Filtration Skid enables pressure regulation and particle capture between large facility purifiers and semiconductor fab distribution. The compact design of this system minimizes gas pad or purifier room space required, while preserving ergonomic operation and maintenance access. Pre-engineered options practically eliminate design time, minimize lead-times, and reduce installation cost and schedule. Our Utility Nitrogen Bulk Gas systems are configurable to customer's needs from field-proven base designs. DFS Bulk Gas Equipment is delivered as a complete factory-tested packaged system.
Standard features on the High Purity Nitrogen (HPN2) Pressure Control & Filtration Skid include:
Redundant flow path
All-welded stainless skid frame
I&C junction box
Globe control valve, pneumatic actuation
High purity filters, EP stainless housing
Pressure transmitter
Configurable Options Include:
Indoor or outdoor installation
Customer preferred control strategy
Valve positioning: Pneumatic and/or electronic
On-skid instrument N2 distribution
Choice of bellows-sealed isolation valves
Choice of filter element types and housings
Over-pressure protection for filters
Blow-down/commissioning valves
Future tie-in valves
Analytical connection points
Customer-specific material and component specification compliance
Optionally EU Pressure Equipment Directive (2014/68/EU) compliant, CE marked
If you would like to learn more about our High Purity Nitrogen (HPN2) Bulk Gas Skid, please feel free to: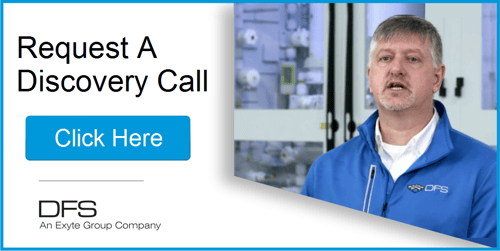 Download the High Purity Nitrogen (HPN2) Pressure Control & Filtration Skid data sheet
OR
Click here to learn more about our semiconductor manufacturing solutions.