Fully Automated, Space-Saving Immersion ASML Scanners UPW Conditioning System Affords Flexibility and Low Cost of Ownership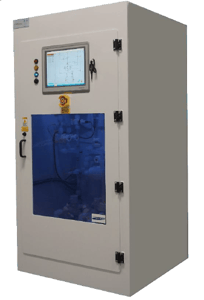 The DFS Fusion™ UPW Conditioning System provides immersion lithography ASML scanners with an uninterrupted flow of filtered ultrapure water at extremely stable flow, pressure, and temperature. The system uses maglev pumps, pressure transducers, filters, Teflon heat exchangers, and precision proportional flow control valves (PFCV) for closed loop control of the process. Built-in metrology options monitor and alarm for any conditions that are out of specification.
The pumps move incoming UPW through a pair of redundant filter housings and two parallel tube and shell heat exchangers. The heat exchangers use facility-supplied process cooling water to obtain the desired temperature. Once the UPW leaves the heat exchangers, it joins a common process line where it blends with non-cooled water with PFCVs that control the flow of each to maintain user-defined temperature parameters. Built-in metrology monitors the quality and purity of this process, and the filtered UPW exits through a final PFCV coupled to a flow meter to provide precise flow out of the system.
In the event of a resistivity alarm, process cooling water is diverted to waste and isolated to prevent cooling water from flowing into the process line.
Advantages
Fully automated system

Low cost of ownership

Flexible and user-friendly HMI

Space efficient design

Temperature control +/- 0.25C
Features
Pressure transducers

Flow meters

Temperature monitoring

Two 10-inch filter housings

Redundant maglev pumps

Teflon™ heat exchangers

Proportional flow control valves

Resistivity sensor

All wetted flow paths are PFA or PTFE

Polypropylene cabinet materials
Safety
Cabinet leak detection and alarming

Cabinet door interlocks

Cabinet contains 110% of the largest volume

Waste pump for system draining and maintenance

Local and remote EMO capability

SEMI S2 Compliant

UL 508A Certified
Controls
PLC and HMI

On-screen system P&ID

Maintenance and shutdown monitoring

Force screens for maintenance and troubleshooting

Pump runtime monitoring

Password protected screens

Manual activation of valves/pumps
Connectivity to system PLC Ethernet networks

Communication with PC via PLC network
If you would like to learn more about the DFS Ultrapure Water (UPW) Conditioning System, please feel free to:
Download our UPW Conditioning System data sheet here
OR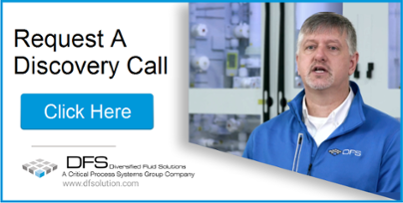 OR
Click here to learn more about our semiconductor manufacturing solutions.