DFS Fusion™ MCBS+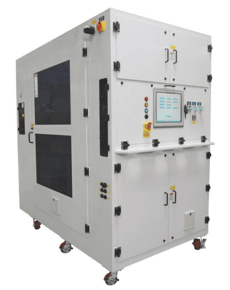 The DFS Fusion™ MCBS+ blends slurries or aqueous chemicals through our inline On-Demand™ blend technology or by weight and volume. All blending methods receive chemical from the customer-supplied chemical source, UPW, or on-board vessels.
Blends are prepared in either of the two 114L blend and dispense tanks, and each blend is verified through the blend specific on-board metrology set. The system maintains and supplies constant temperature and pressure control to the production area tools. Maglev pumps (one per tank) are used for the main chemical supply, and pneumatic pumps are used for blend recirculation and transfer from external vessels.
SYSTEM BENEFITS:
Fully automated system
Excellent R&D process development platform
Low cost of ownership
Space efficient design
Flexible and user-friendly HMI
High blend accuracy
Precise pressure control
System and/or component redundancy to maximize production uptime
Fully portable allowing for maximum flexibility in placement
FEATURES:
Inline On-Demand blending
Metrology for blend confirmation
114L HDPE blend/day tanks
Precision 3-point load cells
Flow and pressure monitoring
Automated system and tool flushing sequences
Maglev pumps for tank and recirculation (1 per tank)
10-inch filter housings (2 per tank)
DFS high efficiency proprietary blend cell
Pneumatic pumps for vessel recirculation and blending
Non-intrusive level sensors
Verification of incoming chemical supply
Maintenance points for system purging and draining
Automated sampling chamber
Solenoid valves with system force capability
All wetted flow paths are PFA, PTFM, or PTFE
On-board humidified N2 system
Polypropylene cabinet materials
If you would like to learn more about the DFS Fusion™ Mobile Chemical Blending System Plus, please feel free to:
Download the Fusion™ MCBS+ data sheet here
OR
Click here to learn more about our semiconductor manufacturing solutions.