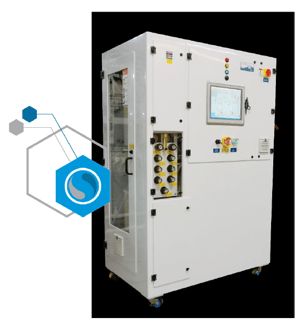 Fusion™ MCBS: A Closer Look
The DFS Fusion™ MCBS is a mobile chemical blending platform that can feed up to three production tools. The MCBS blends chemical by weight or by volume from externally connected source vessels, house ultrapure water (UPW), and optional house-supplied chemical.
Blends are verified through the on-board metrology in the blend tank and then transferred to the day tank maintaining constant temperature and pressure-controlled supply to the production areas. The MCBS uses a single centrifugal pump for the main chemical supply and pneumatic pumps for blend recirculation and transfer from the external vessels.
Blend characterization tools such as the Mobile Chemical Blending System allow users to develop optimal formulations and control critical parameters around any part of the chemical formulation and its processes.
This gives users the freedom to optimize onsite, in real-time, and maintain the proprietary process secrets as internal IP. As an added benefit of in-house development, it also offers users chemical source independence.
ADDITIONAL SYSTEM BENEFITS INCLUDE:
Excellent R&D process development platform
Low cost of ownership
High blend accuracy
Precise pressure control
Flexible and user-friendly HMI
System redundancy to maximize production uptime
Automated system and tool supply line flushing
Portable unit able to pass through standard 3-foot door
Space efficient design
If you would like to learn more about the DFS Fusion™ Mobile Chemical Blending System, please feel free to:
Download the Fusion™ MCBS data sheet here
OR
Click here to learn more about our semiconductor manufacturing solutions.