FULLY AUTOMATED DUAL LOOP SLURRY BLENDING SYSTEM
The fully automated DFS Fusion™ Dual Loop Slurry Chemical Blender is designed to allow for blending of up to 3 Chemicals and UPW with the ability to handle additional slurry inputs if needed. This system will also inject, monitor, and maintain hydrogen peroxide concentration utilizing ultrasonic flow meters, metering valves and refractive index.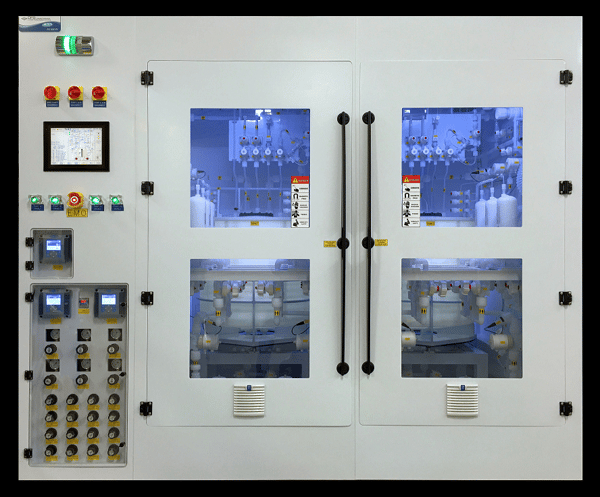 The primary configuration of the system includes two 60-70 gallon polyethylene tanks, individual dual loop pressure control per tank with side-to-side switching, system plumbing contained within a polypropylene cabinet, and a system control panel.
Other major components of the chemical blender include:
PLC
HMI
Conductivity analyzers
RI units
Magnetic levitated pumps
Filter housings (6 per side)
Load cells (3 Per tank)
Teflon plumbing
Pressure Transducers
Pneumatic control valves
Attached drum transfer system with drum or tote load cells
The operator HMI panel is mounted on the outside of the system with easy access and control and the operator touch screen can be used to:
Change control and alarm set points
Display and acknowledge alarms
Open and close pneumatic control valves
Configure the blending sequences
Configure blends and blend monitoring or adjustments
Select and disable pumps for maintenance
If you would like to learn more about our Fusion™ Dual Loop Slurry Blending System, please feel free to: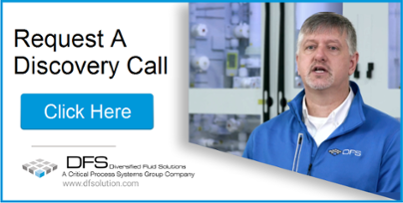 OR
Click here to learn more about our semiconductor manufacturing solutions.