DFS Titan™ Dual Vessel CDU Enables A Continuous Chemical Supply with Closed Loop Pressure Control
The DFS Titan™ Dual Vessel CDU transfers from interchangeable vessels via AODD pumps. The system maintains continuous chemical pressure to production areas using either automated closed loop pressure control or deadhead supply.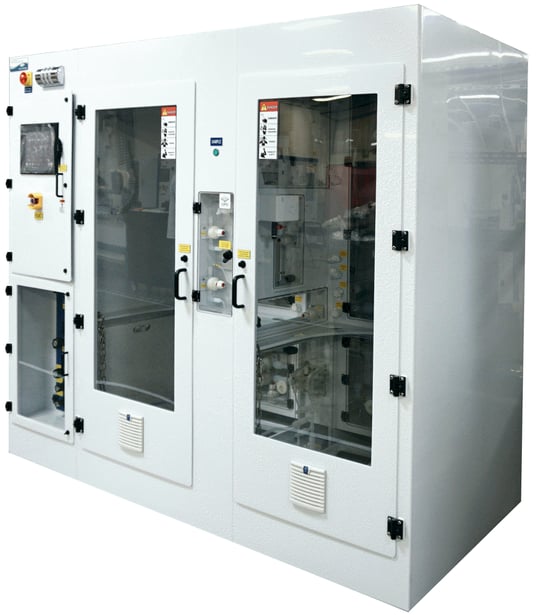 The two chemical vessels allow a constant supply of chemical. When one of the vessels becomes empty, the system automatically switches over to the other full and approved vessel. Chemical is supplied to the production area by one online vessel with the other vessel in standby. The system can be configured to automatically recirculate chemical globally, locally, or on-demand only.
SYSTEM BENEFITS:
Fully automated system
Low cost of ownership
Flexible and user-friendly HMI
System and/or component redundancy as required to maximize production uptime
Side-to-side vessel transfer to reduce waste
High flow system
Space efficient design
FEATURES:
Ultrasonic flow monitoring
Flow through pressure transducers
Pump redundancy with side-to-side switching
Non-intrusive level sensors
Maintenance points for system purging and draining
Isolated pumps and plumbing in vessel sections
Solenoid valves with system force capability
All wetted flow paths are PFA, PTFM, or PTFE
Polypropylene cabinet materials
If you would like to learn more about the DFS Titan™ Dual Vessel CDU, please feel free to:
Download our Dual Vessel Chemical Distribution Unit data sheet here
OR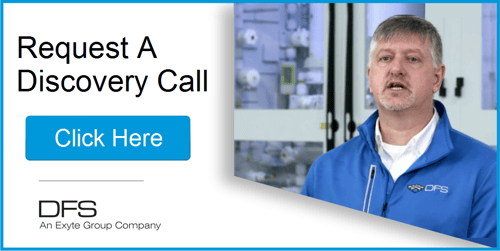 OR
Click here to learn more about our semiconductor manufacturing solutions.