KEY Factors FoR High Performance HVAC Design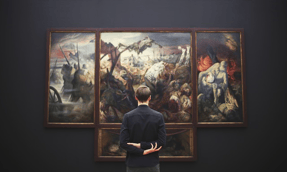 When it comes to museum galleries, nothing is more important than ensuring the longevity of the precious artifacts located within. One of the most important aspects in preserving the integrity of special collections is the indoor air quality provided by the HVAC system.
Striking a careful balance between performance expectations, ambient weather conditions, and proper HVAC design will help to ensure that museum air quality meets the requirements of the curated collections in each gallery.
System Controls
The ability for museums to host high profile travelling exhibits is highly desirable. This requires tight yet adjustable control of the gallery environment depending on the travelling exhibit's needs. The design team must work with the museum conservator to understand the high and low limits of temperature, humidity, and airborne contaminants within each gallery.
It wouldn't be as challenging to control these levels in a completely enclosed environment with a recirculating air system, but the requirement to deliver outdoor ventilation air for occupancy purposes introduces a new set of challenges and considerations.
Outdoor air requirements are typically between 15% - 30% of the total airflow in occupied spaces. With outdoor air being hot and humid in the summer, cold and dry in the winter, and always containing unwanted airborne particles and gases, museum HVAC systems are constantly put to the test and require highly dynamic controls.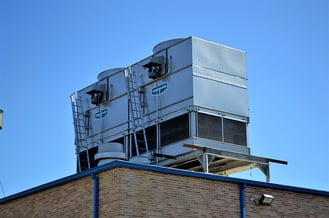 In order to correct external imbalances, air needs to be heated and humidified in the winter, and cooled and dehumidified in the summer. Such conditions not only put high demands on the HVAC system, but present the design team with additional factors to consider when selecting system components.
Energy Use & Cost
The fact that outdoor air is typically hotter or colder than the space temperature means that each cubic foot of external air that's introduced into the HVAC system increases the building owner's operating costs.
Air is also constantly being filtered which adds pressure losses in the system and increases operating motor horsepower.
In order to address these inefficiencies, it's imperative that museum HVAC systems are not only properly designed, but properly installed, commissioned, operated, and maintained as well. Diligent implementation, care, and understanding of the system will help to ensure:
continuously acceptable indoor air quality for every gallery space
minimized wear and tear on the system
appropriate conditions for keeping museum artifacts safe
reduced energy costs
and a comfortable environment for visitors
Helpful Solutions
To help address the above considerations, here is a list of items and system elements that can drive improvements in museum indoor air quality (IAQ) if managed properly.
HVAC Filtration - Understanding proper filter media sizing, selection, and compatibility is often the first line of defense against destructive pollutants that are either introduced or pre-existing within a gallery space. Long term issues and exhibit complications can be greatly reduced by ensuring that museum HVAC systems are routinely checked and supplied with filter media that match the needs of the system and space. Read more...
HVAC Condensation Prevention - Combining the right equipment and condensation prevention measures with an understanding of dew point temperatures, humidity levels, and common building condensation locations can dramatically reduce potential hazards caused by excess moisture and black mold. Read more...
HVAC Economizer Cycle - Different systems possess different methods for economizing and reducing energy demand. Knowledge of the different methods and their potential side effects will help to pair the right economizer method with the specs of the gallery. Proper use and awareness of these different methods could potentially avoid some very costly unintended consequences. Read more...
HVAC Equipment Location - Equipment accessibility, equipment behavior, spatial needs, and malfunction consequences should all be carefully considered relative to its location within a museum space. Each of these factors can influence the ease and cost of system maintenance and repair, as well as avoid costly shutdowns and disruptions to museum operation. Read more...
To learn more about our service offerings, please feel free to:
OR
Visit our engineering services page.