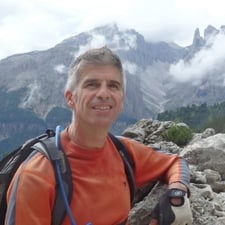 Mechanical Designer, Stephen Gioacchini Re-joins ENGVT
ENGVT expanded its design team with the hire of Mechanical Design expert, Stephen Gioacchini.
Stephen brings more than 25 years of experience in CAD design, specializing in piping and modular skid design for process facilities in the Natural Gas, Semiconductor (ultra high-purity), and Wastewater industries.
Prior to re-joining ENGVT, Stephen held the positions of Lead Mechanical Designer and Design Department Manager at UE Compression/Colorado Compressor Inc., in Commerce City, Colorado, where he focused on modular gas and air compressor skid design.
As one of the earliest members of the ENGVT team, Stephen was there when Jerry Chabot started
Engenuity back in 2000. He was instrumental in bringing the design of NEHP's first modular systems to light using 3D Autocad. Then migrating to Solidworks.
"Developing parts libraries, standards, and processes has been a common theme in all of my positions." - Steve
Previously, Stephen was a Mechanical Designer with UAI Engineering in Williston, Vermont, and a Design/Drafter with Camp, Dresser & Mckee Engineering in Cambridge, MA. Some major projects with CDM included the Central Artery Tunnel project, Logan 2000 upgrade, and the wastewater treatment upgrade at IBM in Essex Junction.
Stephen has been in the CAD design business for 25 years. Through his experience managing, training and developing design teams he has developed both an intimate knowledge of, and advanced expertise with, effective space management of process equipment and piping.
"We are so pleased to welcome Steve back to our team," said Jerry Chabot, President of ENGVT. "We know the quality of his work and the strength he will bring to the growth of our engineering services and capabilities."