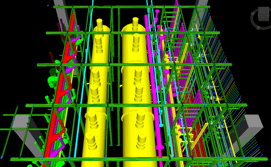 Revit MEP / Architecture Solves Collaboration Issues
As buildings become more advanced to meet energy and water use goals, such as those outlined in the LEED and Architecture 2030 Challenge platforms, the design of MEP systems must be able to react to changes in the overall building design throughout the design process. This will ensure that the MEP systems are properly sized and take into account the inevitable load variations throughout the building.
Understanding the importance of real-time coordination between MEP engineers, architects and construction managers means taking advantage of software tools that exist on the market today. Luckily Revit has been designed with collaboration in mind, by including powerful and efficient tools that make communication between disciplines understandable and easy.
Below we'll examine several features that apply to certain issues which may arise between architects and MEP engineers.
Common Issue: Poor Visualization
Revit offers various Visibility and Graphics settings that allow the user to customize what they want to see and what they don't want to see. For example, an MEP engineer could create a View Template that only displays mechanical equipment and structural components, such as floor joists.
Revit offers color coding tools that can automatically display properties of spaces (i.e airflow requirements).
Similar to creating custom View Templates, the user can create Worksets, which are groups of elements in a model, allowing users to specify who can edit certain types of model. This helps to avoid inadvertent changes by other users in the same model. [1]
Common Issue: Inconsistent Information
Revit offers tools to the MEP engineer that can extract the analytical components of a space, such as volume, surface characteristics, and intended use. These are only useful if the information is representative of the current edition of the model.
Revit Worksharing allows users to work on the same model remotely, which means that the users are constantly updated with the current edition, reducing the need for file transfers.

The file management starts with the creation of a central model, which can be backed-up to the cloud services provided to Revit subscribers or to a local server. Each user in a team project is encouraged to make a copy of the central model which they can edit and then synchronize with the main model as needed.
Additionally, all views, sheets, and schedules are backed up to the same database, which means that any change is propagated to all views and representations of the design. [2]
Common Issue: Interference of Interdisciplinary Components
Revit offers an Interference Check feature in the Collaborate tab which allows the user to define which components to compare, and from which model the components are located

(i.e. a linked model or the current model)

.
A mechanical model can be linked into an architectural model to check if ducts or piping will interfere with any structural components. [3]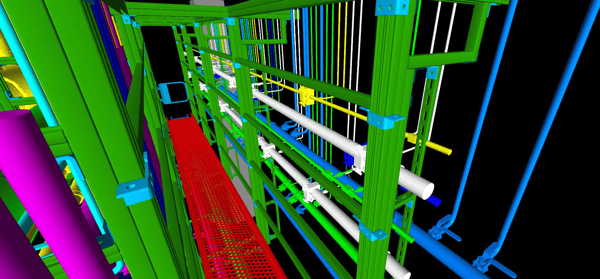 Common Issue: Redundant Changes
For any project, there will be certain levels of dependencies for location and size of elements. [4]
Revit users can create Global Parameters that can drive the location of one object, such as a floor beam, by the dimension of an adjacent element, such as a the slab thickness. This can help structural engineers and architects coordinate better by reducing the need to make repetitive changes to each floor beam. [4]
Revit also defines Shared Parameters, which are saved separate of a project file, so that they can be used in multiple projects.
Using Project Parameters can help all team members get organized by defining a parameter that categorizes views.
In Summary
Revit is useful for MEP engineers who need to collaborate with other disciplines because:
It keeps all parties updated with the current project via Worksharing backed by Revit cloud services.
It allows key design features to be communicated effectively via Visual Templates and color fills.

It allows users to divide the model into worksets, which can be made editable or not editable by the current user to avoid confusion and lessen computing load.

It allows users to define parameters as the design progresses, to make model-wide changes quick and easy.



---
Works Cited:
[1] "Worksets." Autodesk Support & Learning, https://knowledge.autodesk.com/support/revit-products/learn-explore/caas/CloudHelp/cloudhelp/2018/ENU/Revit-Collaborate/files/GUID-FDAA51E3-7703-4965-B09E-E61A92CD0E5A-htm.html

[2] "Revit MEP: BIM for MEP Engineering"Autodesk 2007 Inc.
[3] "Creating a Custom Interference Check in Revit." Autodesk Support & Learning, https://knowledge.autodesk.com/support/revit-products/learn-explore/caas/video/youtube/watch-v-rIumPwJWL1U.html

[4] "About Global Parameters." Autodesk Support & Learning, knowledge.autodesk.com/support/revit-products/learn-explore/caas/CloudHelp/cloudhelp/2018/ENU/Revit-Model/files/GUID-243F2F11-91C2-40CF-9784-9B1BB4CC48DE-htm.html?st=Global parameters.