How To Introduce Conditions of Satisfaction to Offsite Manufacturing Programs
Our customers have long depended on typical construction means and methods in order to construct capital improvement projects, large or small. Today however, there is a pressing need and growing demand to continuously improve every aspect of project implementation. Customers are no longer relying on the same traditional methods that were widely accepted on past projects.
While there are many ways to influence project deliverables, outcomes, and goals, finding the right ones for your specific project can be daunting. As a general rule, in order for companies to be sustainable, competitive, and progressive, they need to be agile and continuously accommodative to customer's ever-changing needs and circumstances.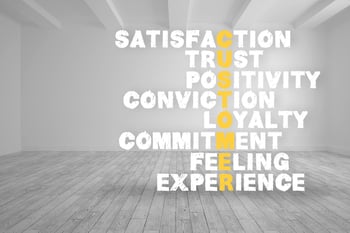 I believe it is our responsibility to use all available appropriate tools, resources, methods, and execution-models to transform our traditional construction practices. One of the tools I like to use is a well-defined upfront Condition of Satisfaction program (CoS).
What is a Condition of Satisfaction (CoS) program?
It's a high-level decision making guide, or rules to ensure everyone is united and in agreement on what the customer wants. It's your commitment to deliver on your team's collective performance as promised at the time of the project award.
Below, I will cover a series of steps that can help introduce Conditions of Satisfaction to your offsite manufacturing program.
1) Ensure your Offsite Manufacturing Productivity (OSMP) program has the right team alignment to support CoS implementation.
To accomplish this, it helps to ask yourself (and your team) the following questions:
Are your goals specific, realistic, and achievable?

Are they well planned in order to be achieved?

Have they been communicated fully, and are they aligned with all stakeholders?
Answering these few critical questions will allow you to assess and/or lay the groundwork for establishing a team that is committed and accountable to meet your overall program requirements. Once your team members are aligned you must then assemble your CoS manual.
2) Assemble your CoS to maximize project outcomes.
Here, it pays to ask yourself the same questions as above: Are your conditions specific, realistic, and achievable? Are they well planned? Have they been communicated fully, and do they align with all stakeholders? This will help guide the development of your conditions to be fair and well defined.
3) Once your CoS manual is assembled, be sure to distribute it for weekly project reviews.
This is important because achieving desired results requires discipline, consistency, and courage to persist. To help ensure the success of those weekly reviews, it's important to implement a framework for Objective Key Results (OKRs) which John Doerr relates to in his number one bestselling book called "Measure What Matters." I highly recommend you read this book, you will find that his fundamentals will change how you run business and life.
The OKR framework is as follows:
Focus and commit priorities.

Once priorities are defined > align and connect for teamwork.

Once teamwork is connected > track for accountability.

Finally, continue to inspire and reach for continuous improvement.
To Conclude
A well defined CoS can have significant influence on your offsite manufacturing productivity (OSMP) program. If you can follow through with implementation, you will be well on your way to forging new pathways to meet or exceed your customer's never ending market challenges.
In closing, I would like to re-emphasize how important it is to always be flexible and to explore new ideas that will inspire you and your customer to achieve amazing project results. I will leave you with a key word - ALIVE. This represents the unique "personality" of every project, the evolving needs of your customers, and the ever changing conditions of the market.
Flexibility and awareness of "ALIVE" will keep you ahead of your competition, designing with a productivity mindset, building to inspire engagement, identifying key partners, and focusing on future culture influencers to achieve new boundaries.
To your success...
If you would like to learn more about offsite manufacturing and construction productivity improvement, please feel free to:
Visit Our Lean Construction Integration Page Here
OR