First, What Is The Circular Economy?
We are entering a new age, one where people are realizing that it's possible to meet and exceed financial goals and make progress in preserving our environment. This concept is taking hold in new and diverse ways and across many commercial and industrial spheres. It's known as the Circular Economy.
You'll be hearing this phrase more and more as its influence grows, but what exactly does it mean?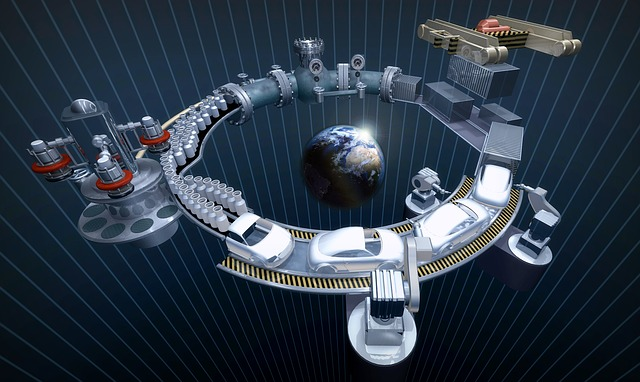 Looking beyond the current "take, make and dispose" extractive industrial model, the circular economy is restorative and regenerative by design. Relying on system-wide innovation, it aims to redefine products and services to design waste out, while minimizing negative impacts…the circular model builds economic, natural and social capital. - https://www.ellenmacarthurfoundation.org/circular-economy
Fab-Tech embraces the Circular Economy model wherever possible. One example is PSP® Coated Stainless Steel Duct.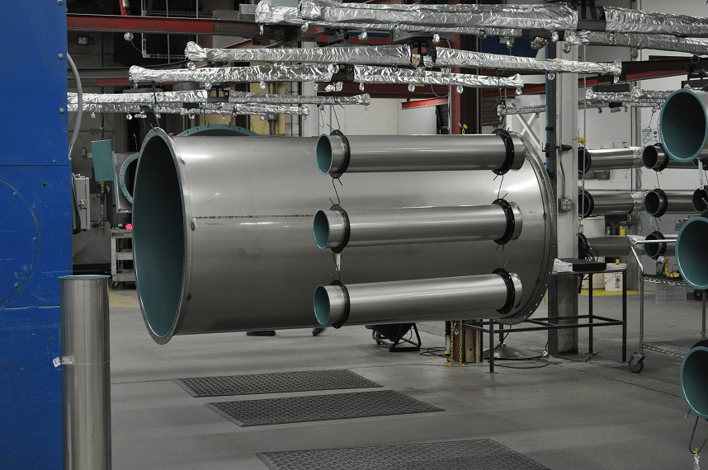 PSP® is 300 series stainless steel duct with an interior that is lined with corrosion resistant fluoropolymer barrier coating. This solution enables process environments such as Semiconductor, Pharmaceutical, Chemical Process and Wastewater plants to reliably manage corrosive fumes and direct them to remediation systems without costly and dangerous leaks.
Historically, corrosive fumes have been handled using fiberglass reinforced plastic (FRP duct). However, in addition to the constant maintenance required on their exterior surfaces to protect them from weather and UV rays, these materials have the potential to be deemed hazardous in an end-of-use scenario.
Disposal of used FRP duct can be very costly as it is not deemed recyclable.
Because PSP® ductwork is constructed of nearly 100% corrosion resistant stainless steel, it presents a very different picture.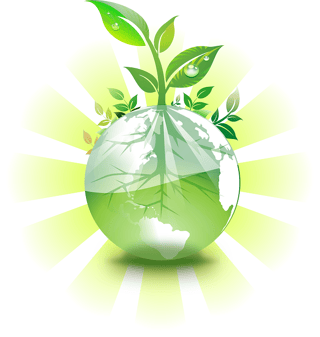 The installation of PSP® stainless steel duct reduces construction waste at the jobsite. FRP duct requires extensive cutting, fitting, and the use of chemical bonding agents and protective coatings. PSP® is designed to fit neatly and be bolted into place, producing virtually no waste other than recyclable shipping crates.
Often, at EOL (end of life), PSP® ductwork itself can be cleaned and reused for another application, meeting the definition of Re-use vs. Recycle. If there is no useful application for the ductwork, stainless steel can be recycled infinitely and it suffers no quality degradation during reprocessing. Because most FRP duct applications are multiphase in nature (containing 3 or more hazardous components) it is expensive and difficult to dispose.
Using PSP® fume exhaust duct not only contributes to indoor and adjacent air quality, it's also recognized by LEEDs as an environmental contribution which can gain you LEED credits under 3 of the 6 categories for achieving a LEED building certification.
If you would like more information about PSP® corrosive fume vent pipe and duct, please feel free to download our general information guide below: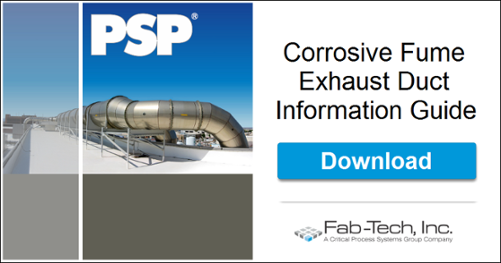 OR
Read More About PermaShield Fluoropolymer Coated Fume Exhaust Duct Here