Fab-Tech Hires Mike Mulcahy AS Midwest Regional Sales Manager

Colchester, Vermont - Fab-Tech Inc., is excited to announce it has hired Mike Mulcahy as Midwest Regional Sales Manager.
"Mike brings more than a decade of sales management and account development experience in the water and wastewater industry to our team," said Scott Fine, President of Fab-Tech. "He's a solid fit for our goals and initiatives. We are pleased to add such a key person to our roster."
Mulcahy has thirteen years of experience in new business and account development, engineering sales, construction knowledge, and project management within the water and wastewater markets. Prior to joining Fab-Tech, Mike worked for Xylem Water's Flygt Pump and Water Treatment Technology product groups, representing and developing the Chicago marketplace. Mulcahy previously held Sales Specialist and Managerial roles at Palmer Johnson Power Systems, Victaulic's Water Division, and Motion Industries. Mike attended Western Illinois University where he received his B.A. in Business/Managerial Economics.
Fab-Tech (www.fabtechinc.com) is a leading manufacturer of fluoropolymer coated stainless steel process vent pipe and wastewater odor control exhaust duct systems. Fab-Tech's odor control and hazardous fume handling products are experiencing strong demand, both domestically and worldwide, from leaders in the semiconductor and wastewater industries.
Fab-Tech is part of The CPS Group (www.cpsgrp.com), which is a group of manufacturing and design companies providing products and services to multiple industries including semiconductor, life science, solar, gas systems, wastewater, and university research labs.
If you would like more information about PSP® odor control vent pipe and duct, please feel free to download our general information guide below: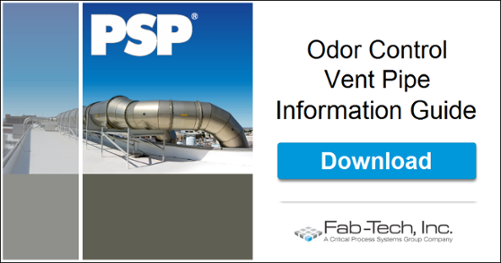 OR