Diversified Fluid Solutions Welcomes Jose Salinas As The new Gas Systems Engineer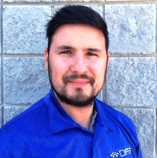 Boise, Idaho - Diversified Fluid Solutions continues its growth with the hiring of Jose Salinas as Gas Systems Product Engineer.
Salinas earned a Bachelor's degree in chemical engineering from the Monterrey Institute of Technology and a Master of Science Degree in oil and gas engineering from the University of Aberdeen in Scotland. He has worked for a major industrial gas company in process engineering, simulation, system design and project development.
"Jose will be helping to develop our gas systems business to the next level of technical and commercial success and will be leading system proposals to our existing customers, while helping develop new products and new customer project opportunities," said Ian Travis, quality assurance manager for Critical Process Systems Group, the parent company of DFS. "His skills will be crucial as DFS strengthens its position as a key supplier of gas systems to the global semiconductor industry."
Salinas also has a background in quality and safety management, having led large gas plant hazard reviews, managed document control, and led manufacturing quality programs. Salinas lives in Boise with his wife and enjoys traveling and golf in his spare time.
DFS (www.dfsolution.com) was founded in 2009 and has established itself as one of the leading global manufacturers of high-purity chemical, gas, and slurry blending and distribution systems for the semiconductor industry. In 2013, the Critical Process Systems Group (CPS Group) acquired DFS.
The CPS Group (www.cpsgrp.com) is a group of manufacturing and engineering companies providing products and services to multiple industries including semiconductor, life science, solar, gas and chemical systems, wastewater and university research labs. Other CPS Group subsidiaries include BioPharm Engineered Systems (Andover, Massachusetts), CPS Process Solutions (Maynard, Massachusetts), ENGVT (Richmond, Vermont), Fab-Tech Inc. (Colchester, Vermont) and NEHP (Williston, Vermont). In July 2016, CPS Group moved its corporate headquarters to Boise, ID.
Click here for more information about our chemical blending and fluid management systems
OR
Click here for an overview of our semiconductor manufacturing solutions